Adapted from François Mauriac's novel of the same name, Claude Miller's final film retells the story of provincial French life in the late 1920s with sombre beauty.  Capturing the painterly quality of the vast pine forests of the Landes region the southwest, France, Thérèse Desqueyroux is a well-crafted drama of subtle charm.
Audrey Tautou plays Thérèse, a conflicted and melancholy young woman born out of time into a house of formality and duty, who dreams of a bohemian life in roaring Paris. Married off to secure the fortunes of two already wealthy families, Thérèse weds Bernard Desqueyroux (Gilles Lellouche), a devoted husband but altogether uninspired partner, who casually speaks anti-Semitic slurs about his neighbours and seems only motivated by hunting and the pursuits of his belly, in short, the furthest thing from a Parisian Thérèse could hope for.
Propelled by her sister-in-law's scandalous love affair with Jean Acevedo (Stanley Weber), a handsome, young Portuguese man, Thérèse becomes conscious of her own featureless world and begins to daydream of ending her casting in the bourgeois province. When Bernard suddenly finds himself bedridden, haven taken an accidental double-dose of arsenic contained heart medicine, Thérèse devises a plan to get rid of the unassuming Bernard and liberate herself from her mundane surroundings. Thérèse's deception is ultimately discovered and is sent into exile in the country estate as a means to protect the family name from scandal.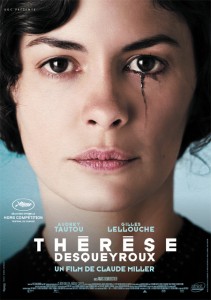 Tautou's Thérèse is a modern day Anna Karenina, struggling against the confines of her class and strict catholic surroundings. Tautou plays the lead with an emotional distance, whose introverted tension is palpable with few words ever said.  Emmanuelle Riva was awarded the Volpi Cup at the Venice Film Festival for her portrayal of Thérèse Desqueyroux in 1962 and Tautou honours that performance with an equally restrained performance, fitting seamlessly into her period surroundings, carrying the weight and frustrations of a liberal woman living in a measured but altogether repressed environment. Gilles Lellouche's portrayal of Bernard is softer, if somewhat duller, compared to the brutish character played in the original adaptation by Philippe Noiret; he's a product of the oppressive middle class, not the cause. Rather, if there were a villain in the picture then it would arguably be the trappings of wealth and catholic responsibility that quarantine the open-minded Thérèse.
Unlike the source material, Miller adopts a linear narrative and liberally changes the film's ending, focusing more on the time and environment of the era than the attempted murder. For the most part, Miller directs with restrain, expertly creating a canvas for his painterly characters to move within. The rich autumn forests and stunning landscapes of the French countryside are shot in a stunning low-key quality against the empty rooms and lonely halls of the Desqueyroux manor by Miller's long time collaborator, Gerard de Battista. While the production design of Laurence Brenguier equally contributes to the film's subtle and muted atmosphere. Thérèse Desqueyroux is a beautifully filmed portrayal of provincial France in the 1920s and while light on plot, is enjoyable from start to finish for its novelistic quality.
Thérèse Desqueyroux is playing as part of the Alliance Francaise Film Festival in Melbourne and will be on limited release from April 11 through Icon Films.

Sorry for the lack of English subtitles!