As the 19th Century's most accomplished writer of soap fiction, one of the keys to Charles Dickens' longevity has been his ability to create a likeable hero. More impressively, he also possessed an uncanny ability to weave almost every aspect of society into a coherent storyline, gentlemen's clubs, gaolers, average Joes and all. Such is the formula for his classic, Great Expectations, which returns to the screen in the hands of Mike Newell (Four Weddings and a Funeral).
The story follows young orphan Pip Pirrip (first played by Toby Stirling) from his days under the guardianship of his blacksmith half-brother, Joe Gargery (Jason Flemyng). Seemingly destined to follow Joe into the forge, an encounter with an escaped convict, Abel Magwitch (Ralph Fiennes), is a catalyst for big changes in Pip's fortune. As is a stint attending to the nutty Miss Havisham (Helena Bonham-Carter), a woman who has not seen daylight in years and whose company consists of a rotting wedding buffet. Here, he meets the beautiful Estella (younger:  Helena Barlow, older: Holliday Granger), for whom he develops a deep and lasting affection, despite her frosty reproaches. Years later, Pip (now Jeremy Irvine) is informed that he has come into possession of a fortune at the hands of a mysterious benefactor, allowing him to relinquish a career with Joe to become a gentleman with great expectations.
The film's opening shots of dripping marshlands set a grim tone for the remainder, not unlike any other version ever made. In addition, there are the usual Dickensian caricatures populating overcrowded dining rooms. There are the unforgiving realities of poverty, despair, deception and gluttony.  The sharp social divides between privileged and working class are stark. And amidst all this, there are the occasional flashes of comedy. In particular, David Walliams' (lLittle Britain) delightful turn as the sycophantic uncle Mr Pumblechook is welcome relief.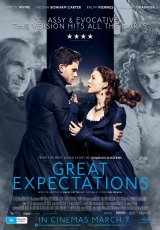 Though, for what is an emotionally ripe tale, this rendering left me strangely unaffected. Most of the cast give decent if unspectacular performances: principally, the Irvine brothers' joint effort on Pip is adequate with the younger slightly edging out the older. However, Granger's Estella, though stunning, needed more development for us to fully understand her appeal.
Helena Bonham-Carter, while suiting the role well, is a bit hard to take seriously as a fidgety Miss Havisham. Wearing the same birds nest hairdo as in Les Miserables and Harry Potter recently, I half-expected her to whip out a wand or break into song. Of the remaining characters (and there are a few), Flemyng's Joe is perfectly judged and Fiennes does a does a predictably fine job with Magwitch.
The moody English countryside and the raw scenes of working class London are classily shot by cinematographer John Mathieson. It is not surprising given the experience the English have in adapting Dickens.  Dickens' dense episodic prose is usually better captured in serial form and to screenwriter David Nicholls' (One Day) credit, his two-hour screenplay is a reasonable summary which absolutely flies by.  However, as a result of the fast progression, certain scenes feel rushed and some characters, like Estella, underutilised.  Richard Hartley's score also seems to go missing at times which is a pity considering its effectiveness at others. Even with all the cutbacks, at the heart of Great Expectations is a riveting yarn which is never dull and never looks less than superb.
Great Expectations is in Australian cinemas from 7 March through Universal Pictures.