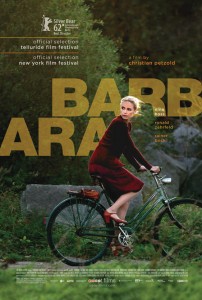 Barbara (Nina Hoss) is a doctor who was banished from Berlin to a small hospital in the countryside for trying to obtain an exit visa from East Germany. While her lover Jorg (Mark Waschke) is busy planning her escape, she is being closely watched by Stasi agent Schutz (Rainer Bock) and resisting friendship of the doctors she is working with, especially that of Andre (Ronald Zehrfeld).
Barbara yearns for a better life while realising this is as good as it'll get. She's under no illusions, knowing exactly what life in the GDR is like. She's serving a life sentence, with regular humiliating visits from the Stasi to her apartment where both her body and her possessions are strip-searched. Always looking over her shoulder, suspecting everyone of either being Stasi or informants, she has excellent reason.
Freedom is priceless however Barbara shows us that it is never entirely black and white. It is not a case of choosing between good or evil and while it may seem as though Barbara has been forced into leading an emotionless existence, they are constantly fuelling her every move.
This is the fifth time writer-director Christian Petzold (Yella, Jerichow) has used Hoss as his lead and she gives an understated, effortless performance as the film's heroine. An excellent doctor, Barbara reserves her emotion and care for her patients, especially a young man suffering amnesia after an attempted suicide and a young woman named Stella (Jasna Fritzi Bauer) who contracted meningitis after time in a prison camp. It is Stella who proves to be Barbara's closest friend and confidant, in turn effectively shaping her decision that will forever change her life.
Very minimalistic and understated, Barbara is definitely a slow burn with a somewhat predictable ending, but is well worth the wait.
Barbara is in Australian cinemas from 7 March through Madman Films.