Those who are familiar with Les Miserables will know that Victor Hugo was not the most cheerful of chaps.  The Man Who Laughs, one of his less well known works, might sound merry but where pre-revolutionary France is concerned, there is not a great deal to laugh about.
The titular character, otherwise known as Gwynplaine (Marc-Andre Grondin), is the central part of a travelling play which he performs with a blind girl named Déa (a radiant Christa Theret). As a young orphaned boy, he was abandoned to wander the gusting winter snows alone in search of salvation with a face cruelly disfigured into a perpetual smile, Joker-style.
Rejected by everyone else, the two children are taken in by a travelling folk remedy merchant, Ursus (meaning "bear" in Latin and played by Gérard Depardieu). Realising there is curiosity for a boy so marked, Ursus decides to start a travelling show instead. With some success, their company moves to the big city where a host of others like them ply their craft. The play in question is a love story which holds a strong resemblance to Gwynplaine and Dea's reality whose relationship has blossomed over the years since he rescued her as a toddler. Although, when fame and decadence beckons for Gwynplaine, his judgement clouds and with that his understanding of what matters most.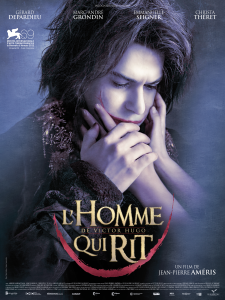 This rather dark fairy-tale demonstrates Hugo's disillusionment with the aristocracy and the misguided creation of identity through class status.  Scenes at the carnival including staples such as the bearded woman, the silent wide-mouthed clown and the colossal strong-man are comically surreal giving this a dreamlike quality.  Likewise are the depictions of the royal courts, where costumes are grossly lavish and flaws grotesque.  Reminiscent of a stage play, the sets are limited and it is clear the budget for this was not what Tom Hooper had for his Les Miserables, though this hardly matters.
While the characters may not be  deeply written, the sharp and incisive analogies are well elicited in both Hugo's prose, adapted to screen by Jean-Pierre Améris and Guillaume Laurant, and the enigmatic direction from Améris again.  Here, the carnival community acts as a metaphor for the French working class in the eyes of the bourgeoisie: a band of freaks with no claim to prosperity or influence. Although, the hilariously bulbous noses of the senate would indicate the freaks to be at the other end of society.
The adverse influence of fame and power might be a common subject. Nonetheless, it helps to be well told and a dramatic, moving conclusion makes this well worth a look.
The Man Who Laughs is screening at the 2013 Alliance Francaise French Film Festival running from March 5 – April 7 across Australian cities.