The French auteur Francois Ozon has crafted a deftly intelligent character drama interwoven with a psychological thriller that works extremely well in the first two thirds before collapsing under the weight of expectation in its finale.
The film follows a failed writer and self-confessed bitter literature teacher, Germain (Fabrice Luchini), who in the twilight of his teaching career comes across a student from a lower class background, Claude (Ernst Umhauer), who in a series of creative writing exercises tells the story of his infiltration into a classmate's seemingly perfect middle class family. Seeing in Claude the potential for genius which he failed at, Germain takes him under his wing and begins giving him private lessons and sharing his students writings with his wife (Kristin Scott Thomas). Soon he is encouraging Claude to go further and further in his infiltration which leads to an obsession with his classmate's frustrated mother (Emmanuelle Seigner) and begins to blur the reality of real and fantasy before Germain realizes he has gone too far.
In The House is an engaging character study that slowly and subtly evolves into a taut thriller, handled with a deceptive simplicity that seduces the viewer into the story. The story, while managing to still be accessible to its audience, is also a fiercely intelligent post-modern exploration of storytelling and the relationship between the truth and fiction; the kind other film makers have tried their hand at, but rarely as successfully as this.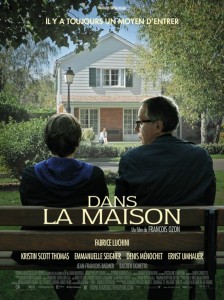 The characters are richly drawn by Ozon (adapted from Juan Mayorga's play El chico de la ultma fila) who sketches them out thoroughly with arresting humour and nuance in the first two acts. It's perhaps the significant achievement of the beginning and middle of the film that makes the ending such a letdown: Ozon has already hit his high and simply has nowhere to go. Despite this, he tries a twist ending which following the intelligence of the script until that point, is almost patronizing to the viewer.
It's hard to think of a film of recent times as well cast as this is. While most films will inevitably feature an ensemble of fine actors, too often it's entirely possible to see other actors fitting just as comfortably in their roles. In The House is different. It's impossible to think of any other actor as the slightly pathetic and defensively intelligent Germain except Fabrice Luchini, or even Kristin Scott Thomas as his enduring wife. Ernst Umhauer has exactly the right look and feel of the brooding and disturbed Claude and gives a performance to match, expect big things from him in the future.
Despite misgivings with the botched ending, In The House is an intelligently written and well-made film featuring some fine performance from one of world cinema's most talented and interesting film makers. A must see for the festival.
In The House is screening at the 2013 Alliance Francaise French Film Festival running from March 5 – April 7 across Australian cities.