What's a French film festival without an unabashedly full-blown, over the top romance? Serving that purpose this year is Happiness Never Comes Alone, a movie that is to cinema what a ridiculously large lollipop is to confectionary: it starts off with a pleasant enough sweetness, but goes on way too long and by the end, it just hurts your teeth.
The story follows a middle aged lothario, Sacha (Gad Elmaleh), a musician conflicted between his work in advertisements that pays his rent and the more artistic work he aspires to do but can't get the financing for. Leaving a job interview one day he runs into Charlotte (Sophie Marceau) in one of the cinema's most elaborately staged "meet-cutes" that can only be seen to be believed. They inevitably hook up and the one-time ladies men who declared his mantra at the beginning of the film as "no alarm clock, no wedding ring and no taxes" is suddenly dealing with Charlotte's jealous former husband and her three children. Chaos ensures.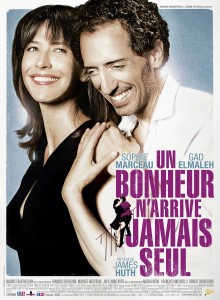 Happiness Never Comes Alone is shot in a grand, larger than life romantic style, with loud, bright colours that starts off fun and invigorating but becomes overly garish with constant over use and lack of contrast. Director James Huth uses this high style in an attempt to subvert the many cliché's of the screenplay he co-wrote with Sonja Shillito. He isn't successful. The film plays out like every romantic comedy that's come out of America in the past twenty years: Boy meets girl. Boy and girl fall in love. Boy accepts girl's inevitable complications. Boy must choose between love and career. Boy and girl separate briefly before the boy realizes he can have both. There's nothing necessarily wrong with formula; it's worked a hundred times before, here the problem is the film makers handling of it. It's also not helped by the abrupt change in Sacha's character, going straight from a non-committal bachelor to loving father to Charlotte's children.
Despite issues with the film's construction, the film's two leads redeem the film substantially. Gad Elmaleh is a natural leading man and shows a talent not only for character driven work but refreshingly for the kind of physical comedy that hasn't been done since the days of Chaplin. Sophie Marceau is as stunningly beautiful as ever, and as if the mere vision of her in the film isn't enough, she contributes an immensely likeable performance that works with Elmaleh's perfectly.
Happiness Never Comes Alone isn't a bad film. It's immensely watchable and the two leads are fantastic together, it's just nowhere near as good as it strives to be, and isn't helped by a running time that goes twenty minutes too long. Despite the misgivings, anyone looking for the perfect date movie during the festival could do a lot worse.
Happiness Never Comes Alone is screening at the 2013 Alliance Francaise French Film Festival running from March 5 – April 7 across Australian cities.