Any film dealing with dark themes such as child disappearances, sex trafficking, and identify theft should theoretically be greatly disturbing. But Bart Layton's The Imposter is more exhilarating than frightening; instead of scaring the audience, it continually makes them want to see more.
The Imposter tells the real-life story of a Texan family, who are reunited with their missing son Nicholas Barclay three years after his mysterious disappearance. But when their mature-looking 17-year-old son returns home, he has different coloured eyes, speaks broken English, and can't remember anything about his family due to the trauma he has been through. To them, he is essentially a different person. In actual fact, he is literally a different person.
This premise alone makes The Imposter one of the must-see documentary films of the year. But what makes The Imposter stand ahead of others in the true-crime genre is that it is narrated by the imposter himself – Frédéric Bourdin. Were this a fictional production, one might consider Bourdin's narration an intriguing plot device. The fact that this is a documentary, however, makes his appearances somewhat eerie; it's like watching a serial killer talk about his victims without showing any remorse.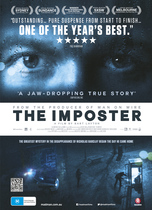 There's more than a little In Cold Blood to this narrative. While we don't want to be seen on the same side of the perpetrator, Bourdin's charming demeanour – coupled with Layton's flawless direction – gives us no choice. Not only is Bourdin funny and a great storyteller; he's able to draw sympathy from the audience.
The imposter's story is interspersed with interviews with members of the Barclay family, the gullible victims of his folly. They too are believable and easy to side with, but they understandably don't communicate their side of the story with quite the same vigour. As such, when a twist develops late in the piece, the audience is left to decide whose re-telling they'd rather believe: the cunning fraud or his seemingly clueless adopted family.
Layton points the spectator in a number of directions, giving credibility to each of the voices he interviews. As such, the film is less of a whodunit and more of an exploration into humanity and the bewildering rationales that accompany this peculiar species.
All these elements make The Imposter a story too good to be true. But when the closing credits to this documentary film roll, audiences may be left to wonder how much of this truth has been interspersed with half-truths and blatant deceit.
The Imposter is in Australian cinemas from 28 February through Madman Entertainment.