Ray Owens (Arnold Schwarzenegger) is a sheriff in the small town of Sommerton which lies just near the Arizona border, having left the big city behind. Now in semi-retirement, he's living a quiet and fairly uninterrupted life. Until now…
Sommerton's high school football team is playing a big game out of town, leaving it practically deserted. Owens thinks he has a quiet weekend ahead of him, but we all know better. In the meantime Mexican drug lord Gabriel Cortez (Eduardo Noriega) breaks free of the FBI while being transported in Las Vegas and embarks on an incredibly violent trek to the Mexican border. These two plotlines ultimately (literally) collide in an extremely violent climax where Arnie gets to show us exactly why we love him.
The Last Stand is Schwarzenegger's first starring role since 2003 and at 65 years of age, he is more robotic than ever. His first appearance on screen frames him from behind walking down the town's main street and if you didn't know any better you'd think you were (already) watching the beginning of Terminator 5. You have to hand it to him, he knows he's old but still gives everything he's got.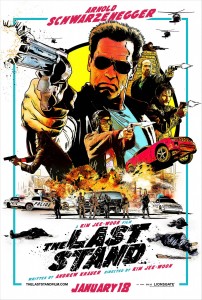 There are many laugh out loud moments throughout The Last Stand, mainly stemming from Schwarzenegger's ridiculous(ly amazing) one liners that never seem to get old and also from an old woman who gets her revenge on one man from the cartel with her shotgun. Then there's the token stupid/obnoxious character in Lewis Dinkum (Johnny Knoxville), a man with no purpose but to add a bit of physicality to the humour throughout the film, except that he's just not that funny.
There's a strong supporting cast including Forest Whitaker as the FBI agent who lets Cortez get away, Jaimie Alexander as Owens's right hand woman and Luis Guzman, providing some comedic relief while reluctantly blowing the bad guys away.
Those who will be going to see The Last Stand know what they're in for. Director Jee-woon Kim's (The Good, the Bad, the Weird, A Tale of Two Sisters) first Western production is a success in this regard, entertaining from start to finish albeit very, very bloody.
The Last Stand is in Australian cinemas from 21 February through Roadshow Films.