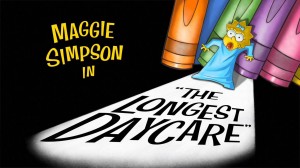 Ahead of the 85th Annual Academy Awards, screening in Australia on Monday 25th February, Cinema Nova in Melbourne is screening all of the nominated Live Action and Animated Shorts. Ordinarily, it is quiet difficult to view shorts in such capacity, and Film Blerg will be posting reviews next week to celebrate such an occasion.
ANIMATED SHORTS
ADAM AND DOG – A playful dog exploring the newly created world comes upon the first man (Running time: 15min).
FRESH GUACAMOLE – An unseen cook uses a series of unusual ingredients to prepare a bowl of guacamole (Running time: 2min).
HEAD OVER HEELS – The emotional distance between a long-married husband and wife has resulted in an unusual living arrangement (Running time: 10min).
Maggie Simpson in THE LONGEST DAYCARE – Maggie Simpson attends the Ayn Rand Daycare Center, where she finds a caterpillar and faces off against her nemesis (Running time: 5min).
PAPERMAN – Disney Animation's story of a young man working in an office who tries desperately to attract the attention of a girl in the building across the street (Running time: 7min).
In addition to the Oscar Nominated titles we will be screening these bonus short films:
ABIOGENESIS (Dir: Richard Mans). In this breathtaking science fiction spectacle, a strange mechanical device lands on a desolate world and uses the planet to undergo a startling transformation, that has profound implications for an entire galaxy.
DRIPPED (Dir: Leo Verrier). Jack is a strange character. He steals paintings from museums to eat them. He feeds himself with the artistic process of the painter. But one day, the museums are closed and he will have to paint by himself to survive.
THE GRUFFALO'S CHILD (Dir: Uwe Heidschötter). A little Gruffalo ignores her father's warnings and tiptoes out into the snow in search of the Big Bad Mouse.
Sessions: Sat 16 Feb 6.30pm, Sun 17 Feb 1pm, Sat 23 Feb 8.40pm, Sun 24 Feb 11.30am
LIVE ACTION
ASAD – A boy from a poor Somali village must decide between piracy and life as a fisherman (Running time: 18min).
CURFEW – A young man on the verge of committing suicide receives a call from his sister asking him to babysit his niece (Running time: 19min).
HENRY – Henry, an elderly concert pianist, undergoes a series of confusing experiences as he searches for his wife (Running time: 21min).
BUZKASHI BOYS – Two boys in Afghanistan, a blacksmith's son and an orphan living on the streets, dream of winning a popular and fierce polo match (Running time: 28min).
DEATH OF A SHADOW – A soldier attempts to ransom his soul from Death and return to the girl he loves (Running time: 20min).
Sessions: Sat 16 Feb 8.20pm, Sun 17 Feb 2.50pm, Sat 23 Feb 6.30pm, Sun 24 Feb 1.30pm