"Happy families are all alike; every unhappy family is unhappy in its own way."
And so opens Leo Tolstoy's 1877 novel Anna Karenina. "Privileged" or "affluent" are words Tolstoy may have omitted from this sentence, with the lifestyles of the rich and the somewhat famous Russian aristocracy taking centre stage in his story. Joe Wright's adaptation does not exactly skip past this, instead amplifying the prosperity with magnificently lavish sets and costumes.
To surmise it simply, Anna (Keira Knightley) is married to Alexi Karenin (Jude Law), and upon her return voyage home she manages to fall in love with the much younger Alexi Vronsky (Aaron Taylor-Johnson). The affair continues and a divorce is ultimately reached, thus placing Anna's formerly good name into the 17th Century equivalent of gossip pages and TMZ. A few subplots occur, naturally highlighting facets of the main story; Anna's brother Stiva (Matthew Macfadyen) cheats on his wife Dolly (Kelly McDonald), with Anna expelling advice that she must get over it; a wealthy man Lenin (Domhnall Gleeson) has affections for Dolly's sister (Alicia Vikander), but she has her eye on Vronsky. Basically, despite whom anyone is married to or wants to sleep with, they'll end up dissatisfied and unhappy.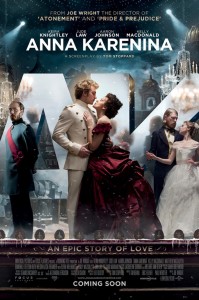 Wright's direction places the story on a literal theatrical stage, quite explicitly putting on a performance for his audience and often moving the actors off the stage and into grander more open locations. The stage acts as a springboard in which characters are clearly on display, but then jump into exterior locations in Imperial Russia. Why this is so is a little puzzling; is the audience being made especially aware of the distance between drama and reality, or perhaps is the fourth wall being broken with the audience given more personal access. The answers all seem unclear, but it is an unusual experimental style that unfortunately doesn't work and raises more questions than it answers.
For the most part, Anna Karenina is a faithful adaptation with necessary cuts to save time (though ample material is still included). Tom Stoppard's screenplay is the Oscar and Tony Award winner's first since Enigma in 2001. Despite its faithfulness, the story is dull and dreary, and neither Stoppard, Wright, nor the actors change the fact. The one exception is Matthew Macfadyen, whose comical and lively performance is a breath of fresh air amongst the turgid, boring love affair being played out before our eyes.
Keira Knightley looks tremendously beautiful as Anna, helped by the masterful work of costumer Jacqueline Durran. Her performance, along with Jude Law, is not necessarily bad, but just lacking in any attraction to the viewer. Looking pretty (or in Law's case, bald and aging) is not enough to capture an audience. Thankfully, the production with its cinematography (Seamus McGarvey), sets, costumes and musical score (by the excellent Dario Marianelli) make up for some of these shortcomings.
Anna Karenina is in Australian cinemas from 14 February through Universal Pictures.