Recently a string of unsuspecting historical and fairytale figures have become stars of b-grade horror films wielding imaginative steam-punk inspired weaponry and kicking supernatural ass, and Hansel and Gretel: Witch Hunters is the most recent and most action packed of those films. As awesome as it was seeing Abraham Lincoln turn Vampire Slayer, nothing, in my mind, is quite as good and the continuation of a fairytale on one of its future tangents. Hansel and Gretel, as we were taught as children, were left in the forest as children by their father. There they found a house made of candy, which they ate, and a witch who enslaved Gretel and tried to fatten up Hansel, to eat, we assume. But the kids were tough, and they fought back, so witch-hunting was a logical line of work for the pair to go in to.
In this future tale of the heroic siblings, they have matured and garnered quite the reputation as supernatural bounty hunters, but a more clear and present danger is upon them, one much bigger than they could ever have prepared themselves for, and one which may be their undoing.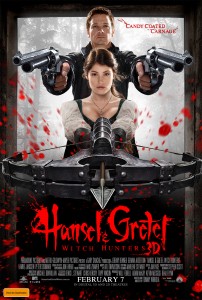 This film, written and directed by Tommy Wirkola, is the perfect example of a no-holds-barred action thriller: this Total Recall cinematographers and choreographers, is how you do hand to hand combat on the bit screen. The carnage is monumental, the gore forth-coming, the cheap one-liners that give you that awkward tinge inside that says "that was so lame, but I love it", the weapons are extraordinary, and the characters are fantastic. At first Gemma Arterton's accent is off-putting, but her verve is what truly wins out in the end. You've gotta love a medieval babe who can kick some serious ass. And action king Jeremy Renner delivers a brilliant B-grade "I didn't ask for all this bullshit" hero performance.
Now, normally I'm not an advocator of sticking 3D onto anything that moves just for the hell of it because quite frankly the exaggerated movements make me nauseous, but in this case it certainly adds a level of thrill to the action, and sometimes the flying shrapnel from an explosion serves its purpose of keeping you on the edge of your seat and your heart on the edge of your ribcage.
If you liked the Grindhouse double or reading the comic series Fables then see this film. If you want action, then see this film. If you just want some good old fashioned in your face action held together by a smidgeon of storyline, see this film.
Hansel & Gretel: Witch Hunters is in Australian cinemas from 7 February through Paramount Pictures.