A man wakes up in a hotel room, surrounded by empty liquor bottles. As his girlfriend gets dressed, he has a fight with his ex-wife on the phone about money. Following this, both he and his female companion do a line of cocaine before departing for the airport. Cut to the same man wearing a pilot's uniform, boarding a plane, preparing to fly an aircraft with a full complement of passengers.
These are the provocative opening scenes of Flight, which marks director Robert Zemeckis' return to live action filmmaking after over a decade of wandering the 3D motion capture wilderness. The pilot in question, Whip Whitaker (Denzel Washington), pulls off a feat of remarkable flying to avoid almost certain disaster in a plane crash, despite his sleep deprived and intoxicated state. Initially hailed a hero, Whitaker becomes increasingly agitated and hostile to those around him as the forensic investigation following the incident threatens to expose his long concealed substance abuse issues.
The moral ambiguity at the heart of Flight's narrative is what sets it apart from many other major studio Hollywood dramas of its type. It's made relatively clear that from a legal and ethical standpoint, Whip should not have been flying the plane that morning. At the same time, it is tacitly acknowledged in the events following the crash that his alcohol and drug consumption may have had an unintended positive effect in keeping him calm as the crisis unfolded.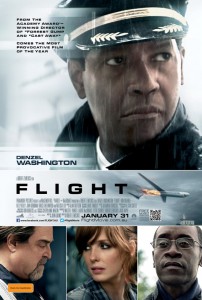 Denzel Washington has been nominated for an Oscar for his performance in Flight, and it is certainly well deserved. He imbues his character with a powerful combination of arrogance and vulnerability that ultimately makes him a sympathetic character, even during the most ugly points of his alcoholism. Following on from his small part in Argo, John Goodman turns in another scene stealing role as Whit's eccentric drug dealer.
There are some minor flaws which need to be acknowledged. The well earned dramatic tension and sense of ambivalence established earlier in the film is jettisoned for the final 15 minutes, jarringly switching gears to become a mawkishly sentimental plug for twelve-step treatment programs. Similarly, its depiction of alcoholism is overplayed at times. By the time we get to a scene of Whip guzzling from a Costco sized bottle of vodka, it has been well and truly established that the character might have a problem of sorts.
The strength of Washington's performance, and the film's willingness to dive head-first into its intriguing moral dilemma, is enough to forgive these shortcomings. Flight is an impressive drama, depicting a world where notions of right and wrong are more flexible than many would be comfortable to admit.
Flight is in Australian cinemas from Thursday 31 January through Paramount Pictures.