Every cloud has a silver lining, or so the well-known idiom says. Schoolteacher Pat Solatano (Bradley Cooper) is looking for his silver lining after being released from an eight-month stay at a psychiatric institution. He just has to find a strategy, something he repeats to his therapist continuously. Motivated to get his life back together, Pat plans reconciliation with his estranged wife, despite a restraining order. Pat's focus is intense, and he avoids medication, whereby alarming and highly-strung mood swings interfere with his concentration.
Staying with his concerned mother (Jacki Weaver) and obsessive-compulsive father (Robert De Niro), Pat fortuitously encounters Tiffany (Jennifer Lawrence) – a dark and sardonic young widow who shares similarly destructive afflictions – who offers assistance in reaching his legally unreachable wife. In exchange, Pat must be Tiffany's dance partner at an upcoming dance event.
Silver Linings Playbook is a story about mental illness, redemption and family. Adapted from the novel by Matthew Quick, David O. Russell serves as writer and director and proves his talents once again. Familiar with chaotic characters and situations, Russell has a firm hold of the story. A frenzied pace matches Pat's illness as moments build to bedlam in the manic state of bipolar disorder. Russell's control allows the moments to burst and gently calm down to a point of simultaneous relief and apprehension, steered by a nicely balanced and beautifully subtle score by Danny Elfman.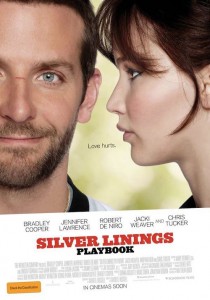 Boasting an extremely talented ensemble cast – a familiar element in a David O. Russell film (Flirting with Disaster, I Heart Huckabee, The Fighter) – Silver Linings is complete with layered and intense performances. Bradley Cooper shows his abilities extend far beyond vacuous leading man status and gives the performance of his career. His portrayal of mental illness wonderfully demonstrates the unpredictable change between mania and its quick descent into a depressive state.
If Winter's Bone launched the profile of Jennifer Lawrence and The Hunger Games made us pay attention, Silver Linings officially makes the young actress an indisputable star. Her performance is beautifully measured displaying both a scary darkness and hopeful lightness that is the ying to Cooper's yang.
Supporting performances from Robert De Niro and Jacki Weaver are equally magnificent. De Niro is at best in one particularly moving scene where he reveals restrained but genuine emotion. Weaver is an absolute delight, commanding attention anytime she is in a scene. Chris Tucker also manages to steal some laughs as Pat's friend from the institution, lighting up the moments with warm humour.
Utterly engrossing and captivating, Silver Linings Playbook resists clichés and sentimentalised melodrama to be genuine, warm, poignant and one of the best films of the year.
Silver Linings Playbook is in Australian cinemas from Thursday 31 January through Roadshow Films.