Tis the season for the diva to be handing out parenting tips via the silver screen. First Bette Midler (alongside Billy Crystal) taught Marisa Tomei that her modern family techniques were not up to snuff in Parental Guidance. Now, in The Guilt Trip, Barbra Streisand explores similar fractured parental-adult child relationships under the guise of a family comedy.
Andy Brewster (Seth Rogan) is an inventor who has made an environmentally safe and non-toxic cleaning product. About to embark on a cross country sales pitch trip, Andy invites his vocally overbearing mother Joyce (Barbra Streisand). Andy does of course have an ulterior motive for bringing his mother, which is naturally unbeknownst to her (cue third act conflict). Separated from the familiar road trip/buddy slapstick hijinks, The Guilt Trip instead focuses on the relationship between mother and son.
Dan Fogelman's idea is rather noble, but does not effectively engage the viewer with enough material. Sure, it is funny in parts, and moving too towards the conclusion, but it is simply not enough to reach the desired impact that it probably deserves. That is not to say that The Guilt Trip is a terribly bad film, but it simply lacks a punchy script. Situations are predictable as well as the inevitable conflict resolution and conclusion.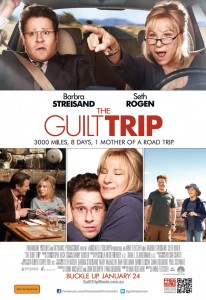 Streisand and Rogan do have an immediate chemistry and are incredibly believable as mother and son, but Fogelman's script does not allow them to appropriately take flight. Despite this, Streisand and Rogan both manage to give fine performances. Anne Fletcher's direction is also fairly standard, and at best allows Streisand to just get away with playing a character aged 15 years younger than the actress herself.
Another strange moment comes when Joyce, a woman struggling with weight issues, partakes in an eating contest, attempting to consume a large 50 oz steak in a Texas restaurant. It is a moment that facilitates a cowboy gentleman caller than actually providing comedic slapstick, which is simultaneously admirable and yet still darn right strange.
SNL alum Nora Dunn manages to steal a couple of laughs in just a couple of minutes, while Adam Scott, Kathy Najimy and Miriam Margolyes all make quick appearances that surely could have better utilised their widespread comedic talents.
Neither draining not terribly entertaining, The Guilt Trip is an average film and missed opportunity for two actors capable of much, much more.
The Guilt Trip is in Australian cinemas from 24 January through Paramount Pictures.