Finally getting a theatrical release in Australia (strangely after the release of the two films Woody Allen made after it; Midnight In Paris and To Rome With Love), You Will Meet A Tall Dark Stranger feels like a stylistic companion piece to his earlier, and much more successful, European piece, Vicky Cristina Barcelona. The film uses the same casual, matter-of-fact voice over (by the same actor, Zak Orth) to introduce us to an ensemble of inter-related characters living in London all dealing with the familiar Allen concern of fidelity.
An older man Alfie (Anthony Hopkins), has divorced his long time wife Helena (Gemma Jones), who in a depressive state, begins consulting with a psychic Cristal (Pauline Collins) for life advice, not only for herself but her daughter Sally (Naomi Watts) and her husband Roy (Josh Brolin). Sally is an assistant to a suave, handsome and married art dealer (Antonio Banderas) who flirts with women shamelessly, and Roy is an author who has just finished his fourth attempt at following up his early masterpiece, and has a thing for a girl living across the way (Freida Pinto).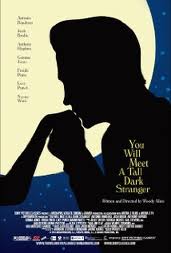 The film begins with the same fresh, vibrant energy of Vicky Cristina but declines rapidly as the narrative progresses through what must be the most constant criticism of Allen's work, his constant retread of the same themes. Where he often re-examines or explores those themes of relationships and neuroses from different angles, here it's presented almost exactly as it has been in the past, with no real new ground to set. It also runs out of steam as the characters become increasingly unpleasant, to the extent that by the end of the film you don't really care what happens to any of them.
The performances across the board are generally good, if not spectacular. Brolin and Watts are convincing as a tired couple struggling with middle age, Banderas cruises on charm in his supporting role and Jones and Collins are fantastic as the older women. Freida Pinto shines as she did in Slumdog Millionaire and Rise Of The Planet Of The Apes. Only Anthony Hopkins, despite delivering a good performance, feels out of place and miscast in the Allen universe.
Not a complete failure by any means, You Will Meet A Tall Dark Stranger is a mildly amusing, but ultimately unessential, excursion through familiar material with Allen coasting behind the wheel.
You Will Meet a Tall Dark Stranger was also reviewed by Paul Flavel in our weekly feature Wednesdays with Woody.