Psychologist Dr. Stanley Milgram carried out experiments at Yale University in the 1960s. These experiments tested the degree to which subjects would follow instructions given by a person seen to be in a position of authority. Overwhelmingly so, most of the patients would follow instructions, even when requested to inflict harm upon another unseen subject in another room. The results have flow on effects that are explored in detail in writer/director Craig Zobel's Compliance.
Ominous foreboding music (from a score by Heather McIntosh) plays alongside images of an American flag in everyday suburban USA. We are told that the film was inspired by true stories and these images help reminds us so. Eventually we end up at the fast food chain ChickWich, where the store manager Sandra (Ann Dowd) accepts a last-minute shipment of stock after a fridge door was left open overnight. Berated by the deliveryman for not informing her regional manager, Sandra quickly chastises her employees, and opens the store. As the day continues, she engages in conversation, trying to both effectively manage and be likable too. Soon after, Sandra receives a call from the police explaining that one of her staff members, Becky (Dreama Walker), has stolen money from a customer's purse. Sandra is requested to keep Becky in her office and follow the police officers instructions. Any further explanation (synopsis wise) would simply give away too much.
Much has been made of Ann Dowd's self-funded Oscar campaign after winning the National Board of Review award for Best Supporting Actress in the role of Sandra. Though Dowd should really be positioned in a lead performance category, the hoopla surrounding her performance is warranted. Dowd commands the screen with subtlety and an unflinching believability. In fact, all of the characters seem very familiar, especially due to their impressionability and naivety.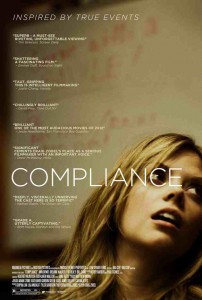 Dreama Walker gives a strong performance as Becky, displaying a depleted abandonment of power as the minutes slowly whittle by. A small cast of supporting players also add to the levels of authenticity that Zobel brings to the screen through their standard uniforms and general familiarity.
Obedience could have also stood as a suitable title, noting the characters habitual traits that follow instructions. On paper, particularly elements of the film could render it a thriller and it does gradually build tensions to the boiling point. Compliance is much more simple though, and these tensions are unbearable when remembering that the story is based on true stories rather than being carried away in stylised moments of cinema.
Distressing on many levels, Compliance is an uncomfortable viewing experience, but nonetheless richly rewarding. The characters situations are uncomfortable, which in turn leaves the viewer in an uncomfortable spot, having sharper analytical cues of the situation at their disposal. Unlike those far removed and watching the story play out, the characters in the film are held captive to the moment; their actions resulting from being placed on the spot, and exhibiting the human quality to be compliant and follow instructions.
Compliance is in Australian cinemas from 17 January through Bonsai Films.