Los Angeles, 1949. Mobster Mickey Cohen (Sean Penn) is ruling the city with an iron fist. Police Chief Parker (Nick Nolte) summons war veteran and Detective Sergeant John O'Mara (Josh Brolin) to put an end to the mob madness.  O'Mara quickly forms his Gangster Squad, including Sergant Jerry Wooter (Ryan Gosling), Officer Max Kennard (Robert Patrick), Officer Conway Keeler (Giovanni Ribisi), to take back the city they love so much.
Gangster Squad has very little narrative, with director Ruben Fleischer (Zombieland) bouncing from action packed scene to action packed scene. The cast should be strong, but this lack of substance ensures they are ultimately forgettable as their characters aren't developed enough for the audience to have a vested interest in their outcome.
Penn has certainly proven his worth as an actor with numerous stellar performances (Mystic River, 21 Grams,I Am Sam), including five Oscar nominations and two wins. He's essentially playing a villain that's comical rather than intimidating and frankly, if this is the direction his career is headed, it's time he thinks about packing it in. Nick Nolte also needs to have a refresher in how to avoid looking like an over the hill has-been trying to overcompensate for his relatively little screen time. We saw great chemistry between Gosling and Emma Stone in Crazy, Stupid, Love, but what was so vibrant there was noticeably absent here. As Cohen's mistress, Stone undoubtedly looks great but one has to wonder whether she has been slightly overexposed in recent times. Brolin has a lot of heart and, as always, Gosling is quite endearing, but they're not enough to save this film.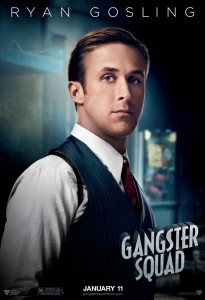 Gangster Squad is writer Will Beall's first feature length film and while there are a couple of laughs, the dialogue is a bore and the jokes have all been heard before.  In theory Gangster Squad has all the ingredients for a slick and fast paced noir thriller, but instead it falls incredibly flat. There is lots of glitz but no glamour. Ho hum.
In response to the Aurora, Colorado shootings last July, Warner Bros instructed theatres to stop screening Gangster Squad's trailer because it contained a scene involving a shootout in a movie theatre. A later decision was made to edit the scene out of the otherwise finished film, rescheduling its September 2012 release date to January of this year.
Gangster Squad is in Australian cinemas from Thursday 10th January through Warner Bros.