Playing from the 14-24 March, 2013, the Melbourne Queer Film Festival has announced some of the films that will be included in this year's program. Here's some words from the festival peeps themselves:
Serious issues are tackled in a selection of films from the international film festival circuit, including award winning Facing Mirrors (Aynehaye Rooberoo) directed by Negar Azarbayjani – set in Iran, the story follows married Rana and what happens when she becomes friends with the rebellious transgendered Edi. French film Beyond the Walls (Hors Les Murs) looks at two men, whose relationship veers into co-dependence and addiction; and years of unrequited love are encountered in North Sea Texas (Nordzee, Texas) from Belgium filmmaker Bavo Defurne.
North American indie films are well represented with: Keep the Lights On, a gritty chronicle which follows the emotionally and sexually charged journey through the love, addiction and friendship of two men who meet through a casual encounter; Fourplay – a feature anthology of short tales which depicts varieties of sexual intimacy set in four American cities; Struck by Lightning, which is Glee star Christopher Colfer's first foray into screen writing; and Route of Acceptance which plays with the idea of destiny, while exploring three possible realities for young lesbian writer, Ryan Stark.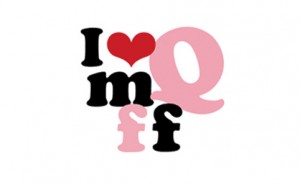 Comedies are aplenty this year too. Hilarity ensues in Gayby when straight single Jenn and gay comic book illustrator Matt decide to conceive a baby the 'old fashioned' way; Mrs. Doubtfire meets Tootsie in Swedish film Cockpit, an over-the-top comedy of mistaken identities; and comedy of errors A Perfect Ending.
Get into the Festival mood with Queens! Destiny of Dance – a fever pitched Bollywood melodrama which follows a group of hijra (male to female transexuals) living a glamorous life in their insular community in Rajasthan; and
Bye Bye Blondie starring French film favourites Béatrice Dalle and Emanuelle Béart which gets into 1980s lesbian punk rock glory days and then revisits 25 years later when their lives have changed enormously.
Swing back to the 1970's with Funkytown, a brilliant ensemble piece set in Montreal, by Canadian Daniel Roby. The disco era is in full swing, and 8 men and women who want to see and be seen at the trendiest disco juggle fame and anonymity until they're forced to make sober choices in an era when excess was the norm, disco was king, homophobia rife and HIV approaching on the horizon.
These titles are just a taste of what's to come in a program of over 150 films. The full program launches on 20 February. Tickets go on sale 21 February.