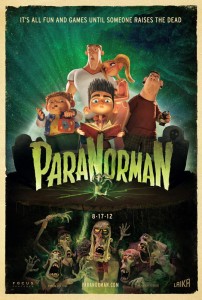 There's been a lot of anti-bullying propaganda going around US media streams lately, particularly when Michelle Obama shows up on Ellen or Fox news do something so terrible they have to try and balance out their evil with a little bit of good. But it doesn't seem to be working, as the Westboro Church keep reminding us every time they show up at the funeral of a soldier or a poor Sandy Hook massacre kid to tell us all how much God hates gay people.
Enter ParaNorman, a modern day Crucible that shows just how dangerous it is to judge people who are a little different. Norman (voiced by Kodi Smit-McPhee) is a young boy obsessed with zombie movies and who can also see dead people. Everyone in the town knows he can "see dead people"; they don't understand and so they call him weird. The only person who believes in his special skill is Neil, who tries to befriend him. They both get bullied by big ugly fat schoolmate Alvin (oddly voiced by the least intimidating actor ever, Christopher Mintz-Plasse).
When the future of the town is in danger from zombies, Norman is the only one who can help, and not because he can see dead people, but because he understands what it's like to be an outsider, what it's like to be bullied, what it's like to be treated differently because people are scared of what you're telling them and don't understand.
Serving as co-writer/director Chris Butler (alongside co-writer Sam Fell) ParaNorman is a great, kid friendly update of the classic witch-hunt tale that is full of strong characters with clear motivations and beautiful hair. Seriously, the combo of stop motion animation and 3D computer animation is stunning; the film maintains the nostalgic magic of stop motion animation while being visually spectacular. It certainly is a horror film, but it's also very funny, parents will enjoy it too.
Who thought Arthur Miller would be relevant in a brave new world?
ParaNorman is in Australian cinemas from 10 January through Universal Pictures.