After the premiere of his highly successful film North by Northwest, all Alfred Hitchcock (Anthony Hopkins) can focus on are critics claiming he's over the hill and losing his touch. With the unconditional support of his wife Alma Reville (Helen Mirren), and seeking a new project, he comes across a fiendishly exciting book named Psycho. The rest is history.
Director Sacha Gervasi (Anvil: The Story of Anvil) and screenwriter John J McLaughlin (Black Swan) have loosely adapted Stephen Rebello's 1990 book Alfred Hitchcock and the Making of Psycho, undoubtedly taking liberties here and there, have pieced together quite a picture. Not only do we get an insight into one of the most influential horror films of all time but the relationship behind it many are not aware of.
Audiences know a bit about Hitchcock himself, but one of the lesser told stories is of the love between him and his wife Alma. The film purports behind every great man lies a great woman and while he might have been a phenomenal filmmaker, Hitchcock shows its leading man as jealous, stubborn, needy and at times incredibly childish.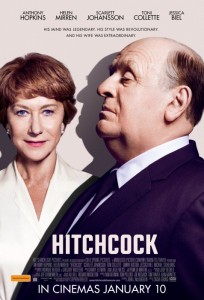 It certainly takes two, and Hitchcock undeniably wanted Alma's input in the decision making process throughout all his films. He might have been obsessing over his young blonde starlets, but it didn't change his opinion on his most loyal ally.
Hopkins completely looks the part in his fat suit and meticulous make up and his mannerisms are superb. However it might be called Hitchcock, but it is Mirren who makes the film. Her presence is striking from the moment she appears on screen and we feel everything she does with such conviction. They're both pros and compliment each other perfectly.
The smaller roles of Janet Leigh (Scarlett Johansson), Anthony Perkins (James D'Arcy) and Vera Miles (Jessica Biel) are extremely well cast and it is a little disappointing we don't get to see more of them.
Hitchcock even breaks the fourth wall, a risky move that really does pay off in its charisma. There are lots of laughs and charm here, and while you don't take much away from Hitchcock it's an entertaining ride nevertheless.
Hitchcock is in Australian cinemas from 10 January through 20th Century Fox.