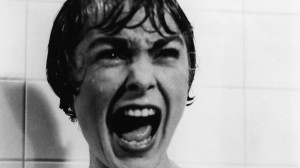 Marion Crane (Janet Leigh) looks wary as she hurriedly drives away from Phoenix, Arizona. It's getting late, almost dusk. Pulling close on her profile we hear the buzzing of an intercom. The imagined voice of her employer anxiously asks his secretary about her absence. Marion's eyes revert to the vacant passenger seat where an otherwise uncommon envelope conceals $40,000. A flush of panic covers her face. Almost completely dark now, it starts to rain. We again hear the voice of her employer, this time frantically arguing with the rightful owner of the money. As the two come to realise who has stolen the money Marion's distress is transformed into a wry and self-assured grin. Rain drops hit the windscreen and as the weather becomes more overwhelming Marion pulls her car off the highway. Amid the now torrential downpour, Marion slowly approaches the desolate Bates Motel, unknowingly, having reached her final destination.
This ominous sequence happens some thirty minutes into Alfred Hitchcock's thriller Psycho and is perhaps one of the most drawn-out and deceiving introductions in all of American cinema. What begins as a heist movie quickly transforms into a horse of a completely different colour. A suspense film like none before its time, Psycho not only showcased Hitchcock's unparalleled ability to manipulate and shock audiences, but also laid the foundations of the modern thriller and serial killer films alike.
Upon its release in 1960, Psycho brazenly announced that it was taking audiences to places it had never been before; and upon buying tickets that year, ushers were instructed to allow no patron the re-enter the theatre after leaving. The event was one that people were literally pinned their seats to witness.
One of the most palpable elements of Psycho is the hysteric, all-string soundtrack created by long-time Hitchcock collaborator Bernard Herrmann. Along with the director's masterful control of the camera, Herrmann's score creates an overpowering sense of unease and all the while engaging mood. Psycho sees Hitchcock performing at the peak of his talents, as each frame meticulously showcases the director's attention to detail and ability to create an almost 3D world of foreboding and unease.
While Psycho is often heralded as a masterpiece for Hitchcock's behind-the-camera mastery, a great deal of credit is owed to its writer, Joseph Stefano, whose dialogue and plot have the viewer leaning forward in their chairs more and more with every sequence. Equally on par is the exquisite camera work of cinematographer John L. Russell, whose lighting and camera work make Norman Bates (Anthony Perkins) and his motel look as equally menacing as Grant Wood's infamous American Gothic.
Janet Leigh received an Oscar nomination for Best Supporting Actress, for her portrayal of the fugitive Marion Crane, while Anthony Perkins was unaccountably passed over for his outstanding performance as the unsettled Norman Bates, earning honours only in the history books as one of horror's most iconic characters.
If you've never seen Psycho and have no idea why Americans, and the world alike, were afraid to use the shower for decades after its release, The Astor Theatre in Melbourne is showcasing a beautiful 2k digital print. The remastering of the film has been expertly handled by Universal and pays absolute due respect to the calibre of the picture and sound; the contrast levels of the release are simply stunning, with the whites and blacks appearing as sharp as they undoubtedly did in 1960. The soundtrack is also razor sharp, receiving a similar restoration. The chance to see such lush prints of these films on the big screen is a rare treat and shouldn't be missed.
Psycho is running at the Astor Theatre along with an equally refined 2k print of The Birds from Jan 6th to the 12th.