Set in the 1970s, Berberian Sound Studio is based around the life of a sound engineer who works on an Italian horror film. Soon life begins to imitate art. The film is practically made for film lovers, leaving the viewer dizzy with the excitement of which we crave so much from good cinema, both visually and audibly. 
This is the second feature by British director Peter Strickland whose fresh approach is masterly, treating us with suspense and respect for Italian horror. Opening with an incredible title sequence greatly reminiscent of the 1970s, heavy visuals (more frequently displayed today with digital effects) were often clumsy but the intention to frighten was felt.
Leading the story is Toby Jones, who has become an English chameleon of the screen, easing back and forth from leading roles to character parts. Jones has appeared in many high profile roles, most recently playing Alfred Hitchcock in The Girl opposite Sienna Miller who plays Tippi Hedren.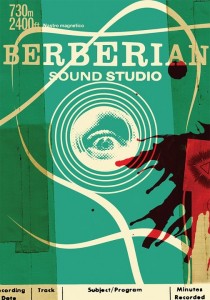 Jones' character, Gilderoy, is soft mannered and from the English countryside. Far from the grisly world of Italian horror films, Gilderoy is more at home writing letters to his mother and struggles to deal with the otherwise aggressive co-workers on the film.
Berberian Sound Studio has the hallmarks of an excellent British film, from the atmospheric cinematography (by Nicholas Knowland) and incredible lighting, to the subtle nods of the period through the costume designer Julian Day. The film centres around sound which is so clear and sharp, often being piercing and loud like a 1960s Doctor Who episode.
Despite being a crystal-clear, modern film being made in 2012 with sharp sound, the onscreen visuals are full of notable vibrant 1970s colours. Strickland is very clever by never allowing us to see the film within the film with which Jones' character is working on. This allows the viewer to only assume what kind of film is being made with such ghastly sounds and one that seduces Jones' character into madness.
This film is best enjoyed in a dark room, late at night with loud sound.  The quaint character of Gilderoy is a stark contrast to the seducing and bewitching sight and sounds of Berberian Sound Studio, where nothing is quite what it seems.  The familiarity of Jones helps trick the viewer that this is standard film fare and helps the journey become all the more surprising.
Berberian Sound Studio is playing at ACMI in Melbourne from Friday 28 December.