Ralph is a character in the arcade game Fix It Felix, unfortunately he is not the hero, he is the guy that wrecks the building and lives in the dump. Day after day, year after year Ralph wrecks the building and watches Felix fix it, after which he gets thrown from the building as Felix gets another medal of commendation. It's no wonder Ralph is not receiving any job satisfaction. Finally he seeks refuge in a bad guys support group where the orange ghost from Pacman (and many other familiar bad guys) encourage him to accept his role and be happy being himself. But Ralph is not happy and decides to do something about it. In an unprecedented move, he game jumps in order to get a medal of his own and things start to get out of hand.
Much like in Scott Pilgrim vs. The World, Wreck-It Ralph features many familiar gaming tropes that will make you nostalgic and which fill one with a warm feeling. Ralph is an extremely likeable character, as many of John C. Reilly's down and out characters are, but the supporting cast are just as marvellously mapped as to make a truly well crafted children's film which will surely be loved by parents and kids alike.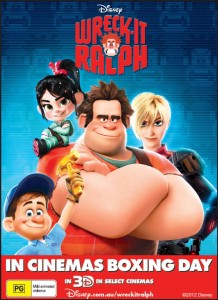 Preceded by the quaint black and white animated short Paperman which recalls the charm of screwball comedy and the effervescence of the French new wave. Coming from a long history in the animation department at Disney Pixar, John Kahrs directorial debut is a sweet tale of fates role in love. The film perfectly sets up the predicaments faced by Ralph; a yearning to be someone else, frustration within the workplace and the sudden inspiration to do something about it all. The two work nicely together despite their astounding differences. Be sure to keep an eye on this one come Oscars time.
Wreck-It-Ralph is in Australian cinemas from Wednesday 26 December through Disney.