Returning with another three-part saga, Peter Jackson brings The Hobbit: An Unexpected Journey into Australian cinemas this Boxing Day. While the film will not disappoint Jackson and J.R.R. Tolkien fans, there is still a major pacing issue amplified by the three film split.
The Hobbit begins in a familiar setting where Bilbo Baggins (Ian Holm) is writing an account of his adventures long ago. With a voice-over narration acting as our entrance into the past, a story is told of how the unlikely hobbit (the younger Bilbo played by an excellent Martin Freeman) teamed up with Dwarves to take back their rightful land that they fled years beforehand. With guidance from Gandalf (Ian McKellen) the troop fight many battles and land themselves a third of the way to the finish line, of course thinking that the journey is almost complete.
Howard Shore's score once again ceremoniously fuels scenes of turbulent action, impending danger and calming rural hobbit town life. The action sequences work well, though too intense for those sensitive to violence, swords and battles. Like all of Jackson's Tolkien efforts, close to three hours proves a noticeably long running time that could have been dramatically scaled down. In particular, one dinner scene where the dwarves come to Bilbo's house to feed seems to never finish.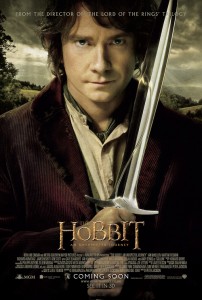 Two different formats of the film land in cinemas, and one should be warned if one is the type to notice visual elements like aspect ratios, framing formats and the quality of film vs digital. In selected cinemas, Jackson employs 48 fps (frames per second) above the standard 24 fps featured in films. Claiming to the first film to ever use the technology for the duration of the film, the results often disappoint. 48 fps boasts the crispest and sharpest visuals of tremendous quality that has not been seen on screen before. It is also reminiscent of the quality of film used in reality/lifestyle television and soap operas.
Cinema attracts to audiences through its separation between reality and fantasy. There is a period of adjusting to the new format, and even after the eyes have adjusted, the technology only works part of the time. Specifically, 48 fps works well in the many action sequences where movements are constant, much like watching a sporting event on a brand new high definition television. It fails in scenes with less complicated movements, leaving simple acts of dipping a quill in ink and writing look rather preposterous.
Like other cinematic visionaries, Jackson should be commended for attempting to take film to a new level, but should also remember the trappings of the new and far-from-perfect technology. Free from critique of film formatting issues, Jackson, along with his writing (Fran Walsh, Phillipa Boyens, Guillermo del Toro) and producing partners have created a fine film that stands up well against the already beloved and acclaimed Lord of the Rings trilogy. Unsurprisingly, Andy Serkis steals the show as the Gollum, noting how Bilbo came about the synonymous and all mighty ring.
The Hobbit: An Unexpected Journey is in Australian cinemas from Wednesday 26th December through Warner Bros.