It seems strange to write that actors singing in a musical is revolutionary, but in this case it is. Appropriately, the revolution is made with the late nineteenth century tale of Les Misérables. Over thirty years since debuting on the Paris stage, Oscar winning director Tom Hooper and producer Cameron Mackintosh have brought the musical to the big screen.
Though many cinematic versions have been released of the Victor Hugo novel, none have been of the stage musical. Filmed unlike any musical before, Les Misérables has all of its actors singing live; hence the aforementioned revolution. Live singing has featured in many movie musicals before, but none have attempted the whole film as such. In this case, the actors had small earpieces feeding piano accompaniment to which they were in control of the speed. From there, an orchestra was added to give the grandeur required. The results of 'live-singing' create a fierce intensity, absent from many films similar in form. Allowing the actors to focus on the acting, rather than accurately lip-synching has created more richer and authentic performances.
Imprisoned as a slave for years, Jean Valjean (Hugh Jackman) escapes the eye of the law – Javert (Russell Crowe) – and breaks parole, starting a new life under a new moniker. Years later, established and well regarded, the two men meet again. Simultaneously, Valjean takes on the impoverished child of fired factory employee turned prostitute Fantine (Anne Hathaway) while escaping from the law once again. Skip forth a few more years, and it's time for another reunion and another French revolution with barricades and blockades.
Les Miserables has a grand story to tell, and yet despite this, it is a rather slow moving machine. Though much story is crammed into the 158 minutes, the film feels overly long and drawn out. At the same time, certain plots seem rushed and hurried. Though Jean Valjean's escape is arduous and seemingly never-ending, questions are left unanswered when understanding how Valjean built such an affluent new life for himself. Skipping over important character histories and evolutions continues as the Revolution plot approaches in the third act. More time was required in developing the characters that we only quickly discover. A perfect example lies in Eponine (played by Samantha Barks), who is dramatically underused, leaving the intended showstopper "On My Own" as disconnected and anticlimactic.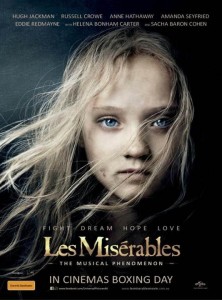 Okay, bad points out of the way. Well, almost. Russell Crowe may be the ensemble's weakest link, despite his strong singing voice. Unfortunately, it is just a tad too strong, and does not connect to the story as well as the other leads.
Hugh Jackman is absolutely marvellous as Jean Valjean and has created a memorable performance combining an intensity equally matched with sincere vulnerability. Vocally, Jackman displays both brevity and sustained strength, as he ages over time. Eddie Redmayne, Amanda Seyfried and Samantha Barks are all strong in the Revolution plot, displaying a new talent (Barks) and two already established young talents destined to continued achievements.
It is Anne Hathaway that steals the show though. Her "I Dreamed a Dream" is nothing short of remarkable, performing the song in one take in front of Hooper's motionless camera. As Fantine, Hathaway gives the performance of her career and seals her fate, delivered in the Oscar envelope next February.
Sacha Baron Cohen and Helena Bonham Carter bring some comic relief as the mischievous Thénardier and Madame Thénardier. Despite having weaker voices than the other actors, their characters demonstrate the range covered by costume designer Paco Delgado and art/set designers. Most characters wear bleak tones of grey, beige, browns and black. Red becomes a strong motif during the revolutionary sequences, along with blue and white, making clear reference of France.
Attention should be paid to the large group of writers responsible for Les Misérables, beginning with Victor Hugo's original 1862 novel; then to the French music, book and lyrics from Alain Boublil, Jean-Marc Nate and Claude-Michel Schonberg; and finally to William Nicholson's screenplay.
At 158 minutes, Les Misérables appears on the screen as it does on the stage: as an epic piece of showmanship. While it is not without fault, the film is remarkable in its creative and technical achievements and deserves much praise as a result.
Les Misérables is in Australian cinemas from Thursday 26 December through Universal Pictures.