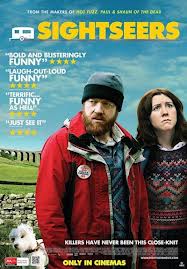 Courtesy of Rialto Distribution, Film Blerg is giving away 10 double passes to see the dark comedy SIGHTSEERS, out in cinemas from Wed 26 December. 
Film Synopsis: Chris (Oram) wants to show Tina (Lowe) his world and he wants to do it his way – on a journey through this sceptred isle in his beloved Abbey Oxford Caravan. Tina's led a sheltered life and there are things that Chris needs her to see – the Crich Tramway Museum, the Ribblehead Viaduct, the Keswick Pencil Museum and the rolling countryside that separates these wonders. But it doesn't take long for the dream to fade. Litterbugs, noisy teenagers and pre-booked caravan sites, soon conspire to shatter Chris's dreams and send him, and anyone who rubs him up the wrong way, over a very jagged edge…
How to win:
Visit our Facebook page and hit the "SHARE" button on the SIGHTSEERS status.
Write "Win tickets to see the new dark comedy SIGHTSEERS" in the write something section.
Send your name and address to giveaways@filmblerg.com with SIGHTSEERS in the subject.
Competition opens 9am AEST Monday 17th December, 2012 and closes 5pm AEST Friday 21st December, 2012.
Terms and conditions
Passes are eligible only to Australian residents.
Film Blerg and Rialto Distribution cannot be held accountable for any delay or loss of prizes.
You must follow Film Blerg on Facebook or Twitter to be eligible.
Any information sent remains confidential.