Making its away across the international festival circuit in 2012, the initial reviews for Sightseers have typically described it as a dark comedy. 'Dark' is perhaps an understatement for what audiences can expect from director Ben Wheatley's third feature, especially when pitch-black would be a more accurate descriptor.
Written by its two lead actors, Alice Lowe and Steve Oram, the film begins with Chris (Oram) and Tina (Lowe) setting off on their first trip together as a couple, a journey by caravan across the English countryside. At least initially, the new couple are presented as a pair of well-meaning, although slightly left of centre individuals. What begins as a modest romantic getaway, including visits to seemingly banal destinations such as a tram museum, quickly takes a turn for the worse. It's not spoiling anything to mention that a car accident caused by Chris, resulting in the death of a pedestrian, eventually leads to the couple going on an all out killing spree as they wind their way through the country.
Many would agree, that's one risky premise to hang a film on. Sightseers commitment to following through with the aftermath of its protagonists actions is admirable, there will be few complaints that the killing's depicted are lacking in splatter and gore. It also helps that the film is frequently hilarious, in spite of its morbid subject matter.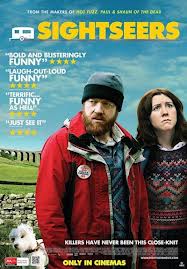 Credit for this should chiefly go to Lowe and Oram's screenplay and performances, imbuing their characters with a charming and down to earth ordinariness at the outset. It's established fairly early on that Tina and Chris both have reasonably large chips on their shoulders, and that once they cross they threshold with the initial killing, they only need the slightest of justifications in order to indulge their violent impulses. Indeed, the increasingly trivial reasons for the murders as the film goes on is arguably the primary source of Sightseers most humorous moments.
Once the shock of the indiscriminate killings wears off, the film does begin to lose some its momentum. Although it's indicated that the authorities are on to the trail of Chris and Tina, the lack of self reflection on the part of the characters, as well as any sense of impending negative repercussions, means that Sightseers second half does descend into repetition at times.
Sightseers will easily hold the distinction of being the strangest, and perhaps the most unexpectedly entertaining film among this year's Boxing Day releases.
Sightseers is in Australian cinemas from Wednesday December 26 through Rialto Distribution.