Samsara marks the reunion between director Ron Fricke and producer Mark Magidson, nineteen after their documentary Baraka was released. Like Baraka, Samsara takes viewers through an experience of a vignette of images telling stories without words, voice-over narration, or dialogue. Shot in 70mm, Samsara refers to the 'ever turning wheel of life'.
Images that are simple in scope are presented through Arabian deserts, to fast moving urban cities with their tall skyscrapers and thousands of lights. This engaging back and forth style continues as countries varied as Istanbul, Japan, Ethiopia and Brazil are shown. Affluence and privilege are matched against the impoverish slums, all while music from Lisa Gerrard, Marcello De Francisci and Michael Stearns plays.
Contradictory images are presented one after another, and sometimes within the one scene, best demonstrated when two women are standing fully dressed in a burqa while standing in front of a poster where men wearing absolutely nothing but designer underwear. Fricke then quickly moves his camera to affluent women shopping in high-end department stores with their bare midriffs exposed. Distinctions between gender, class, geographic locales and species of mammals play out in a similar fashion.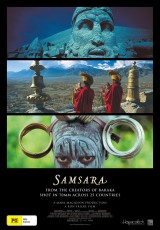 Even though countless images are just stunning on their own, Samsara is more than just imagery, with themes of cohabitation and the human race existing in one large mass production system. Cities in Asia are used to show production lines where white goods are put together, and these scenes are of course not free from being politicised.
Several scenes involving the production of meat are confronting, documenting the preparation of animals pre and post slaughter (not during), highlighting the often hard-to-digest nature of the food chain. This is of course followed by scenes were suburban shoppers go about their grocery shopping in a frenzied and excessive manner. The distinction between man and animal is perfectly clear, and while Samsara doesn't explicitly present a statement on the ethical and moral ideologies in which these institutions operate, an indignity is certainly felt for the treatment of these animals.
Following on from the illuminating Baraka, Samsara is a visually arresting piece of cinema. Fricke and Magidson have beautifully photographed 25 countries, including a diverse range of settings dramatic in their opulence, and frighteningly sad in their abject poverty. Interestingly released among the hyped-about Boxing Day releases, Samsara is a definite alternative on December 26.

Samsara is in Australian cinemas from Wednesday December 26 through Hopscotch Films.