Dustin Hoffman makes his official feature film directorial debut with an appropriate story of seasoned veterans coming together for a special performance.
The Beecham Home for Retired Musicians houses British operatic royalty. Though in their later years, rehearsals for the annual Verdi birthday gala concert rejuvenates the talented seniors. Order and structure are still apart of the resident's daily routine, until famed soprano Jean Horton (Maggie Smith) moves in and disturbs the peace.
While Cissy (Pauline Collins) and Wilfred (Billy Connolly) are happy to reunite with their esteemed colleague, Reg (Tom Courtenay) is less than thrilled, having had a romantically turbulent past with Jean. To make things more complicated, an intensely dictatorial musical director (played by an ostentatious Michael Gambon) decides that the upcoming gala would be complete by reuniting the famous quartet.
There's plenty of room for witty conflict in this charming comedy by Ronald Harwood who adapted the screenplay from his 1999 play of the same name. Four marvellous actors play four interesting characters, with each getting their own chance to tackle the indignities of aging. Quartet, however, is not just about getting older, but also focuses on redemption, reconciliation, unity and friendship.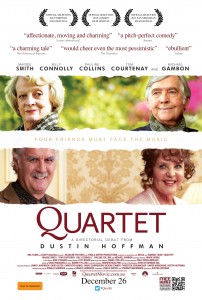 Billy Connolly is the youngest and the wittiest, throwing constant barbs to the other residents with aplomb. Pauline Collins is enchanting, radiating warmth and charm with every move she makes. Tom Courtenay gives a very strong and moving performance as a man still heart broken and affected from past events. Maggie Smith is naturally tremendous and presents another character that undergoes a fundamental inner transformation (not uncommon for Smith's characters with Muriel in The Best Exotic Marigold Hotel and Mother Superior in Sister Act spring to mind).
A threat of foreclosure was present as a weaker subplot, and one that was insufficiently used and underdeveloped. The film's ending was satisfying as all loose ends were tied up, but was anti-climatic on a cinematic level. One important scene was missing, and though it is understandable when considering that the leading four actors are not opera singers, the absence was still impactful.
Dustin Hoffman has many fine moments as a director, best evident within the first act. Hoffman beautifully positions Tom Courtenay in moments of despair where the inner turmoil is clearly overwhelming. Cinematographer John de Borman helps Hoffman in presenting the most beautifully coloured sunset hues within the Buckinghamshire countryside.
Quartet is at its best when the four leading characters are together and chew up the surrounding scenery. There's no doubt that Quartet will delight the older audience it is aimed at, but there's plenty of material to keep one of any age entertained.
Quartet is in Australian cinemas from Wednesday 26 December, through Transmission Films.