I'll make my disclaimer from the get go. I have had a liberal arts education and I do believe this played a part in enjoying this film. That's not to say having gained an education in any other discipline prevents this. Or that having a tertiary education is a prerequisite to the comprehension and enjoyment of this film. Alas, when your world is presented to you, it is undeniable that you will often have an alerted state of response. It also helps that Josh Radnor's second feature film is a sincere study of accepting the challenges and the weaknesses of gaining a liberal arts education.
Jesse (Josh Radnor) works as a college admissions officer and is in quite the rut having been dumped (or at least we assume that he was the one dumped.) A return trip to his alma mater to attend a retirement dinner for his favourite professor (Richard Jenkins) serves as the catalyst for the aforementioned exploration of liberal arts in all of its glory.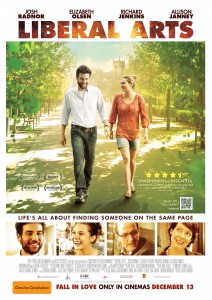 Serving as writer/director/producer and protagonist, Josh Radnor presents a simple and understated look that it's not gallant not extreme in defending a liberal arts education. Sure, he's idealist in his thoughts, and there is a slight hero complex issue Radnor deals the character, but this is all forgivable. Radnor does not give a standout performance, appropriately adding to the characterization of understated.
Elizabeth Olsen continues to impress in role after role, breathing the required freshness into the character of Zibby, Jesse's love interest. At the age of 19, Zippy is hopeful for the future, and ready to explore what the world has to offer, existing in opposition to Jesse.
Unlike Woody Allen and his frequent large age gaps between his protagonist and love interest (most especially in Manhattan), Radnor makes it his intention to address the age disparity. Despite this, we glean is that Zibby's maturity transcends numbers, and excels far beyond the maturity within Jesse.
The enjoyable Richard Jenkins gets the opportunity to act as the wise but unsteady elder to Radnor's apprehensive mid-thirties existential wanderer. A captivating Allison Janney also gets a couple of rather funny scenes to play a former professor who inspired Jesse in his youth, but whose hardened personality serves an device to inspire inner change in Jesse. As per usual, Janney is a wonderful treat to watch in her few minutes on screen.
Liberal Arts positions itself as a coming-of-age film for a man who probably should have come of age already. Perhaps a little too idealist in its portrayals of romance, the film is livened by performances from Olsen and Janney.
Liberal Arts is in Australian cinemas from Thursday 13 December through Icon Films.