If you ever wondered what the hyperactive test tube baby of Glee and Bring It On would be like if it were brought up by Kristen Wiig and Maya Rudolph then Pitch Perfect is the answer. Beca (Anna Kendrick) wants to go to LA and become a music producer. Her father is forcing her to try college first and encourages her to participate in a group and make some friends. Enter Chloe (Brittany Snow), one half of the leadership team of the Barden Bellas, an all female a cappella singing group that compete in competitions, much like they do in Glee.
After an unfortunate grand final performance the year before, highly strung Aubrey (Anna Camp) is determined not to repeat the disaster this year. Unfortunately everyone sees them as a huge joke so instead of the A-grade group of hotties the Bellas have been known as in the past, Aubrey and Chloe have to assemble a group of misfits with a range of talents and skills that don't quite mesh under Aubrey's tutelage.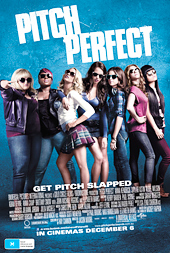 Meanwhile the usual star crossed lovers' thing is going on with Beca and Jesse, a member of the all male a cappella group and the Bellas arch nemeses the Treble Makers, as they bond over time spent interning at the campus radio station. A bunch of a capolitics ensues, a fair bit of food-poisoning-scene-in-Bridesmaids-esque grotesquerie and singing (obviously). Rebel Wilson plays a much bigger part as Fat Amy, and steals the show as it turns out she can actually sing as well as play the funny fat gal with all the sass. Particular mention to the odd, quiet Asian character Lilly (Hana Mae Lee) who no-one can hear but who has all the best and awkwardest one liners and some major beat boxing chops.
Thankfully, Pitch Perfect is advertised as a really funny movie and it is a really funny movie, unlike other recent films like Bachelorette. Advertised to be really hilarious but turned out to have a couple of ok moments but was mostly just dramatic and not what one is looking for when they go to a romantic comedy. I mean that shit got real. But Pitch Perfect actually is funny. Clichés and predictability are exactly what you look for in a rom-com these days; tune in and drop out for a couple of hours. Not ashamed to admit that I'll probably go and see this again. And probably again after that.
Pitch Perfect is in Australian cinemas from Thursday 6 December through Universal Pictures.