Clint Eastwood plays against type as a disgruntled, down on his luck, decaying old man. Okay, maybe less "plays against type" and a little more "continues to personify a geriatric curmudgeon in the twilight of his career" type role. That said, Eastwood makes a rare appearance in a film that is not his own; one of only two performances in the last 20 years, and first since 1993's In the Line of Fire.
Eastwood plays Gus, an aging baseball scout with sight problems. Though talented in his profession, Gus also faces opposition against the ambitious Phillip (Matthew Lillard) and his computer generated statistics. With a threat of retirement, Pete (John Goodman) encourages Gus's daughter Mickey (Amy Adams) to help her father out, despite their fractured relationship. Mickey joins her father for a few days, and places her career as an attorney in jeopardy. But much more comes out in these few days, with the inclusion of a love interest in the form of the new Red Sox recruiter Johnny (Justin Timberlake).
Plenty of material exists outside of the sporting setting for the film to work; indignities of aging, emotionally unavailable workaholics, father daughter reconciliation, etc. The titular trouble could well relate to the distanced and turbulent relationship Gus has with his daughter. And perhaps the titular curve has some symbolic meaning for Mickey's own yearning to discuss the undiscussed problematic issues with her father, and the positive changes she ultimately brings.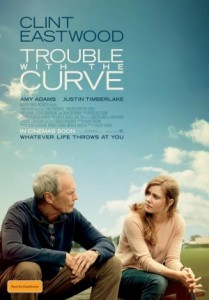 Clint Eastwood gives a fine but gravel-pitched performance, with a poignant moment in a cemetery beside his deceased wife's grave. Justin Timberlake is also fine, proving his smooth transition from singer to actor. Amy Adams, however, is the strongest force in the film, though she suffers from an underdeveloped character. Adams works well with Eastwood and even better with Timberlake, but the script from Randy Brown is at a second or third draft level. Much more work is needed to properly develop the relationships between the three main characters.
One particular heavy moment that was rife for further exploration (which I won't spoil here) is just lightly touched upon. Maybe it was seen as too heavy for the father-daughter relationship flick, but this led to weakened conflict expression and resolution. Of course, the communication barriers between Gus and Mickey play into this, but the lingering sense of anticlimactic tension remains.
Despite a rather formulaic screenplay, Trouble with the Curve does have a lot of heart. The film also marks the feature film directorial debut of Robert Lorenz, a frequent second unit director/assistant director on many Eastwood films.
Trouble with the Curve is in Australian cinemas from Thursday 6 December through Warner Bros.