There are two distinct instances in 2012 's retroactive cinema in which the human torso is decorated with symbols intended to pump war's glaring hypocrisy from heart to toe, but which glare with such clotted, cluttered symbolism that all meaning begotten, coagulates, and dies. The first such instance is in Billy-Bob Thornton's Jayne Mansfield's Car, in a scene where Skip (a Vietnam veteran played by Thornton) pins his combat medals on his bare pectorals, which are covered in scar tissue. The whole film is similarly filled with empty provocation, rolled out like factory-issue hindsight, unaware of its own temporal lapse and present audience.
The second instance occurs in Xiaogang Feng's Back To 1942, when a young Catholic priest presses his humongous holy bible – so thick and clean, it's like a new microwave – to the breast of a dead child, to conceal a gaping, bleeding cavity, following an air raid. Father Sim, who has been spirited and vigilant in famine's wake, begins to question his faith – and here, the bible's incapacity to console a dying child, had audience members audibly scoffing. During the Second World War, China's central Henan province has suffered a drought, leaving the land baron, food scarce, and millions heading west in search of refuge and hope of government intervention.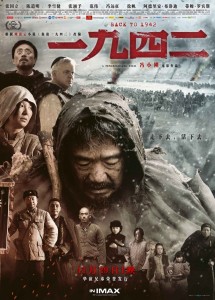 The film begins with the most tedious credit sequence in the history of cinema: a real-life wartime speech by Republic Of China leader, Chiang Kai-shek, which is over-long, repetitive but perhaps the only relevant device in the film. It is there because the republic's propaganda side steps around the famine issue, and believes the war to be China's only immediate threat. It is also rhythmically akin to the dawdling, bureaucratic conduct of the middle-ranking officers making feeble attempts at creating awareness – supremely boring scenes.
The massive population insurrection, or aimless journey plot, is too heavy, too laboured – fat with sentiment – bloated with images of hessian sacks emptied, turned inside-out, food stolen and eaten in a hastened and desperate manner. For a film about famine, it features far too many scenes of people eating. The landscape is so dense with flesh and activity, that dropping bombs – and it rains napalm – barely registers in the busy starvation drama.
With an ensemble of bad performances, a manipulative score – that has no resemblance to Chinese composition – and a camera that imposes as much of a threat as the Imperial Japanese Air Service, Back To 1942 is a backward reflection on an overlooked chapter in Chinese history, and something that you'll be glad you hadn't heard of until now.
Back to 1942 is in Australian cinemas from Thursday 29 November through China Lion Films.