Celeste (Rashida Jones) and Jesse (Andy Samberg) are best friends. They spend all their time together and enjoy every moment of it. But they're getting divorced. Divorced. Their engaged friends Beth and Tucker (Ari Graynor and Eric Christian Olsen) think Celeste and Jesse's relationship is strange, and they're fairly accurate in their interpretations. Celeste is in serious denial while Jesse still holds a torch for reconciliation. That is, until the expected narrative conflict appears and Jesse suddenly moves on in the quickest sense possible.
Rashida Jones co-penned the screenplay alongside Will McCormack (who also appears in a supporting role) and holds the film together well. The film may list two titular characters in the title, but this is really the Celeste show. It is beyond clear now that Jones is leading lady material, no longer relegated to supporting roles.
Jones is smart and funny as Celeste, playing two rather different roles under the guise of one character. Celeste is naturally much more likeable as the destructive Celeste, drinking and smoking just a touch too much, than the calm, cool and collected Celeste we find in the first half of the film. Nothing gains this reviewers love more than a hopeless single character with excessive consumption issues.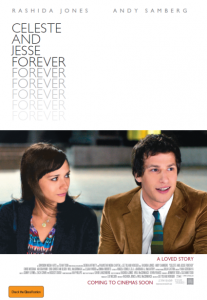 Andy Samberg gets some funny moments too, but really plays it straight against Jones. Chemistry is clear between the two actors, but an appropriate distance exists too. Interestingly, Jones is not playing the straight-laced role to the wacky and wild protagonist (remember I Love You, Man? This rule partially applies to Jones even in Parks and Recreation too. Perhaps she took it upon herself to write a role against type…)
Supporting performances are fine, with the omnipresent Chris Messina appearing once again in another quirky romantic comedy (after Ruby Sparks). Emma Roberts also makes an appearance as a Ke$ha-type singer/client whom Celeste represents. One sharp scene even managed to prophesise the Susan Boyle Anal Bum Party debacle within just moments.
Celeste and Jesse Forever is an enjoyable comedy with elements of comedy and romance, also existing in a realm with other similar "relationship" films including My Best Friend's Wedding (with a selfish but likable protagonist) and The Break Up (with the "meant-to-be" couple not making it.) Though repetitious in the third act (potentially resolvable by director Lee Toland Krieger speeding up the pace) the film makes nice attempt at presenting flawed modern relationships to the screen (not that there is a shortage at all).
Celeste and Jesse Forever is in Australian cinemas from Thursday 29 November through Disney.