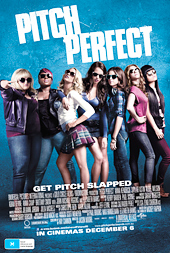 Courtesy of Universal Pictures, Film Blerg is giving away 5 double passes to see the new comedy PITCH PERFECT, out in cinemas from Thurs 6 December. 
Film Synopsis: Beca (Anna Kendrick) is that girl who'd rather listen to what's coming out of her headphones than what's coming out of you. Arriving at her new college, she finds herself not right for any clique but somehow is muscled into one that she never would have picked on her own: alongside mean girls, sweet girls and weird girls whose only thing in common is how good they sound when they sing together, in the new out-loud comedy Pitch Perfect. Loaded with new takes on old favorites to hits of right now that are seamlessly mixed together, mashed up and arranged like you've never heard before, Pitch Perfect is directed by Jason Moore, who opened our eyes to the very misbehaved life of puppets in the surprise Broadway sensation Avenue Q.
How to win:
Visit our Facebook page and hit the "SHARE" button on the PITCH PERFECT status.
Write "Win tickets to see Anna Kendrick and Rebel Wilson in PITCH PERFECT" in the write something section.
Send your name and address to giveaways@filmblerg.com with PITCH PERFECT in the subject.
Competition opens 9am AEST Monday 26th November, 2012 and closes 5pm AEST Friday 30th November, 2012.
Terms and conditions
Passes are eligible only to Australian residents.
Film Blerg and Universal Pictures cannot be held accountable for any delay or loss of prizes.
You must follow Film Blerg on Facebook or Twitter to be eligible.
Any information sent remains confidential.