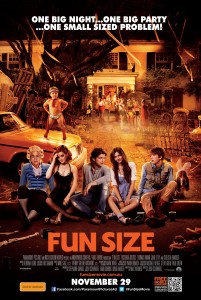 When did teenagers get so annoying and predictable? Obviously teenagers have always been annoying, that's just part of being 13-19, but somehow the innocence of Alex Mack and the wit of Daria have been lost on the kids of today. Whiny "why me" voice over narration is central to this coming of age story from Nickelodeon. Void of any real depth or emotion, what occurs during the one-night tale is immature and predictable mush. But isn't that what we've come to expect from kids pics?
Directed by Josh Schwartz with a screenplay written by Max Werner, Fun Size actually has some very funny moments, particularly in relation to supporting character Fuzzy (Thomas Middleditch) who works in a convenience store. Teaming up with silent Albert (Jackson Nicoll), Fuzzy exacts vengeance on the woman who broke his heart and the man who stole her from him, and nerdy love interest Roosevelt's "mums" and their incredible weaving project. There's also a little bit of heart, particularly an emotional scene in a graveyard that reveals a little about our intrepid siblings. An awkward encounter between mum Joy (Chelsea Handler) and the parents of her college party host is present too, where Joy pours her heart out over an uncomfortable cup of tea.
Jane Levy is no where near as charming and quirky as she is in Suburgatory, instead coming off conceited, self absorbed and boring. Even when she predictably hooks up with the tougher than he ought to be, debating co-captain, and Asian best friend, she's still that girl trying to be above her social station that you take pity on but still can't like.
Giving credit where credit is due, Wren (Victoria Justice) wears a def jam records bomber jacket throughout the film, listens to Pink Floyd, wants to dress up as Supreme Court Justice Ruth Bader Ginsberg and raps about Biologist E. O. Wilson. But awful is awful and the post script really killed this one for me. What happened to you Nickelodeon, you used to be cool?
Fun Size is in Australian cinemas from Thursday 29 November through Universal Pictures.