It is no surprise that dreams, fantasy and perceptions of reality are a big part of The Eye Has to Travel. After all, Diana Vreeland published images of perfection and glamour for years to the masses in her time as the editor for both Harper's Bazaar and Vogue. Appropriately, a portrait of an enigmatic, voraciously witty and alluring woman is presented by documentarian (and granddaughter-in-law) Lisa Immordino Vreeland.
Archival footage swarms the film with a ton of photos, interviews with muses and co-workers, interviews with Vreeland herself and a narration of sorts in the form of voice over dialogue taken from sessions with a biographer. All of these elements help to debunk the legend that is Diana Vreeland.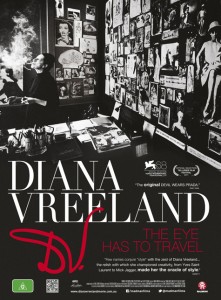 Well ahead of her time, Immordino champions Vreeland as an intuitive master and an unknowing feminist, manically working at a time where women were not climbing the ranks. Not known for her physical beauty from birth, style and fashion became a mask for Vreeland to present to the world. Inspiring a number of cinematic imitators (including Kay Thompson's character Maggie Prescott in Funny Face), Vreeland's influence is transparently clear. Her career is sufficiently tracked from beginning to end, for those unfamiliar with her work. Most interestingly, her time is documented with the Costume Institute at the Metropolitan Museum of Art in New York, which continues to present eclectic and diverse exhibitions.
Little is revealed about the relationship Vreeland had with her family, leading for an interesting narrative conflict, but one that is insufficiently explored. The tension lies especially between her children – who highlight the fact during their interviews – and her lack of interest in their lives. Vreeland's "shy" relationship with her husband provides for another interesting and yet unseized divergence. The documentary abandons a decent amount of time on Vreeland's family in a similar manner to which she herself lacked the proper interest.
Existing in a canon of recent fashion documentaries that explore the famously illusive figures, The Eye Has to Travel is a welcome companion to The September Issue and Bill Cunningham New York. Local comparisons like Gillian Armstrong's Unfolding Florence also spring to mind. Both Vreeland and Florence Broadhurst were innovators of fashion and design with a personal history of intrigue, hyperbole and opulent decadence. Luckily for Vreeland, she did not meet a ghastly and unresolved end, but instead lived to a ripe old age of 86, dying in 1989.
Diana Vreeland: The Eye Has to Travel is in Australian cinemas from Thursday 22 November through Madman Films.