Julie Delpy is an old hack at the writer-director-actor role and the proof of her experience is in the pudding of 2 Days in New York. Marion (Julie Delpy) an artist stressing over an exhibition ten years in the making, and Mingus (Chris Rock) a radio presenter enamoured of President Obama, each have children from past relationships and have fallen madly in love. But trouble strikes when Marion's family come to stay for a couple of days; her sister Rose (Alexia Landeau), a sex crazed bimbo who ironically works as a child psychiatrist, her ex and Roses current boyfriend, the sleazy pot smoking Manu (Alexandre Nahon), and her bazaar doesn't-speak-a-word-of-English Father (Albert Delpy). Mingus is at first amused and overwhelmingly polite, but as their behaviour becomes more and more ridiculous, Mingus starts to realise he doesn't know the woman he shares a bed and raises his children with, and Marion starts to lose her mind.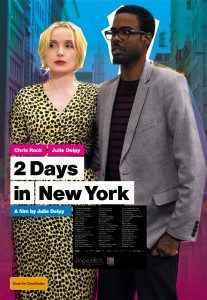 A comedy of errors 2 Days in New York has all the charm of a classic French screwball and the intellect of a classic Woody Allen comedy. You can't help but laugh at the ridiculousness of the situations Marion and Mingus find themselves in. Mingus in particular likes to vent his frustrations either on air to his listeners, or to the life-sized cardboard cut out of President Obama he keeps in the corner of his office. It really is fantastic to see Chris Rock "riffing" with the president, and improvising really grade-A quality comedy gold again, he's been off the radar for a while with Madagascar.
Fans of light, charming French comedy should most definitely see this film. Not perhaps as shocking or ridiculous as Delpy's previous 2 Days in Paris, but she has made a beautifully crafted comedy out of the story of Landeau and Nahon, set to the backdrop of the beautiful city of New York.
2 Days in Paris is in Australian cinemas from Thursday 22 November through Hopscotch Films.