Set in the very near future, Robot and Frank tells the tale of Frank (Frank Langella), a man with dementia who is living alone in a small town. He walks into town in the middle of the road to borrow books from the library and talk to the lovely librarian Jennifer (Susan Sarandon). His son (James Marsden) lives four hours away and is saddened by the state of his father's house every time he arrives on the weekend to clean up. One day he brings Frank a robot helper (voiced by Peter Sarsgaard). At first Frank is hesitant to trust the robot, but when his memory starts to improve, along with his health, he starts to let the robot into his life.
The major turning point in the relationship is when Frank is able to teach Robot his skills as a notorious cat-burglar. Robot takes to picking locks like a fish takes to water and an idea starts to formulate in Frank's mind. Robot goes along with the casing part of the cat-burgling process as a way to reason with Frank on lesser issues such as the food he eats, and when he sees that is helps Frank's recovery, that's when things get really out of hand.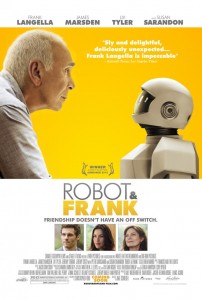 Robot and Frank is a beautiful film that perfectly presents the realities of dementia, the unrelenting pace of technological advancements and the true value of companionship. A scary prediction the film makes about what life will be like in the future is the thought that when young people start to take over roles normally held by middle aged people, experiences will over take knowledge, possessions and status will be valued over substance and love, and books will all be incinerated.
Perhaps if one were to read into this it would seem as if screenwriter Christopher D. Ford and director Jake Schreier had a very cynical view on young people and their (our) ability to learn from the past, listen to our elders and at least be around when our parents become senile. Ignoring this however, the film is very sad but very sweet. Frank Langella is charming and perfectly disoriented, Sarandon feels a little stilted, but this is explained later in the film. It's not quite Bicentennial Man but Robot and Frank has a lot of real heart.
Robot and Frank is in Australian cinemas from Thursday 15 November through Sony Pictures.