The third of Allen's London films, Cassandra's Dream, much like Match Point is a film within which what we know as "Woody Allen" is completely absent. It is the third London film, and the third consecutive film that deals with a murder plot. This calls into question Allen's interest in the city as a character, and while Match Point and Scoop made an exhibition of London's bourgeois beauty, in this film London's grey banality is something that the characters seek to escape from.
The film opens with the eager purchase of a sailboat by two brothers Terry (Colin Farrell) and Ian (Ewan McGregor) but before this scene, Philip Glass' score plunges us into a grand, dark spiral over the affectionate Allen font credits. The music is a palpable, sinister presence throughout and it takes sometime for the plot to match this, and then, somewhat suddenly become absorbed by the tragedy which it relentlessly suggests.
Terry and Ian are bound by a familial estrangement to the previous generation, and their differing dependence on money. Terry works for a mechanic and has a gambling problem. Ian works for their father's restaurant and needs a loan to pursue his own enterprises. When Terry's losses get him in trouble with loan sharks, the brothers turn to their Uncle Howard (Tom Wilkinson), a self-made millionaire who, in exchange for his financial support, asks his nephews to commit murder in order to protect him from an unknown, but significant, financial crime.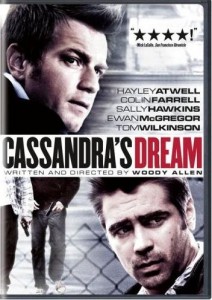 The film sees family as a great moral complication to its characters. Their mother constantly reiterates blood loyalty; her regard for her wealthy brother is something to which she expects her sons to aspire to – money, like family, demands a certain kind of respect. The pursuit of wealth is also in the interests of building families. Terry wishes to buy a house with his long-time girlfriend, and Ian's new love for an actress, and his business venture in Los Angeles becomes a dream for both their futures.
In its tragedy, it is much like a play, and Allen reflects this by drawing curtains with the camera several times throughout, and in particular, concealing its most violent scene: we retreat behind a hedged fence, reminding us that we are not a party to this crime, our own moral questions are not invited – this crime is strictly between two brother's and we may only observe its dire effect.
It is a great forgotten Allen film, with two exceptional performances from Farrell and McGregor. It was surprisingly not as successful as Match Point, but perhaps its unyielding tragedy, and disillusioning end is not as tidy as its morally corrupt older brother's.