Woody Allen's 2006 film Scoop was released perfectly between sport inspired Match Point and crime thriller Cassandra's Dream.  The tagline is simple, 'The perfect man. The perfect story.  The perfect murder.'
Scoop tells the story of Sondra Pransky (Scarlett Johansson), an aspiring journalism student. While on stage in magician Splendini's show – real name Sid Waterman (Woody Allen) – Sondra is visited by the ghost of investigative journalist Joe Strombel (Ian McShane).  Joe tells her that upper class Peter Lyman (Hugh Jackman) , son of Lord Lyman, is in fact the 'Tarot Card Killer' and responsible for more than ten murders of prostitutes in the London area.   This is the scoop of the century and Sondra must now try to expose Peter as the killer.
So begins a winding tale of Sondra and Sid trying to prove Peter's guilt.  Sondra comes up with the ruse that the two are father and daughter and creates the identity of 'Jade Spence', then faking a drowning to get the ever charming Peter to save her. When it works and he asks her to his families garden party over the weekend, Sondra falls blindly in love with the handsome and rich Peter, becoming unable to see any of his downfalls.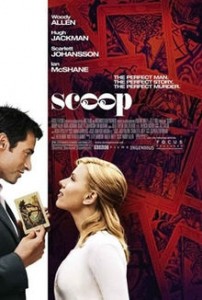 Joe's ghost continues to visit both of them with more clues but as Sondra falls deeper in love with Peter it's now up to Sid to find the evidence, save Sondra and not only expose Peter but to put him away for good. It's only when the so-called real 'Tarot Card Killer' is caught, Sid has to weigh up his options and find out what Peter is hiding in relation to the killings.
With such memorable lines including 'of course I see the cup half full, but of poison' and 'I was born into the Hebrew persuasion but when I got older I converted to narcissism.' Scoop is one of Woody Allen's lest complicated plots with more Hollywood glamour than most of his preceding films, and with a less considerable cast too.
Johannson is wonderful as the geeky, round glasses wearing student and Jackman is charming as always with a delightful English accent to boot.  As usual Allen's performance steals the show with his wise cracks and constant need for dialogue to bombard the audience with way too many words and lots of repetitious humour.  Only Allen could manage to weave in  his best repeated line, '16 blue ponies, 21 jet planes and 12 spinning midgets.'
Another classic Woody Allen film that was disturbingly found in a local DVD throw out bin for five dollars. Woody: you either get him or you don't.