Based on a 1990 article written by the real Mark O'Brien, entitled On Seeing A Sex Surrogate, The Sessions is a film about a physically crippled man with boundless emotional intelligence looking to open his eyes to a world he has always considered to be out of his league.
Mark O'Brien (John Hawkes) is a 38-year-old man suffering from polio. His condition is so severe he is confined to living in an iron lung for all but a few hours of his day. Like all able-bodied people Mark has needs and, while resigned to the fact he'll most likely never have a close intimate relationship with a woman, he would like to have sex at least once before he dies.
Condemned to being horizontal his entire life, whether in his iron lung or being wheeled around on a gurney by his personal assistant Vera (Moon Bloodgold), O'Brien seeks the help of sex surrogate Cheryl (Helen Hunt) in order to fulfil
his curiosity and desires. Of course we all know the Catholic Church considers sexual intercourse outside marriage a sin, but a compassionate Father Brendan (William H Macy) surprisingly gives Mark his blessing, suggesting God will "give him a pass for this one".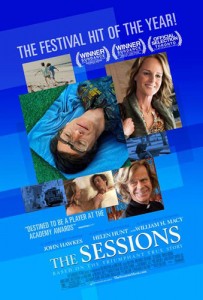 Sex surrogates are professionals trained to aid and educate disabled people so they cease viewing their bodies as an obstacle to experiencing erotic pleasure. In no way is The Sessions perverse in its message, in fact it's the complete opposite. What is truly beautiful about this film is its inclusive manner. Many people may not even consider the sex lives of the physically disabled and it opens our eyes to an otherwise fairly unspoken topic.
A beautiful, complimentary cast has been pieced together to form a brave film that could very well be the performance of Helen Hunt's career. She is absolutely fearless, portraying a professional woman who finds herself incredibly vulnerable in a situation she usually has complete control over. Hawkes (Winter's Bone, Martha Marcy May Marlene) has consistently proven himself to be extremely versatile, with his performance here no exception.
Director Ben Lewin (Hollywood Gold, Georgia) has written a hard hitting yet touching screenplay that will undoubtedly make a mark on audiences everywhere. The Sessions doesn't try to push any agenda or stand on a high moral ground. It's simply a film with a lot of laughs and a lot of sex, but most importantly, a lot of heart.
The Sessions is in Australian cinemas from Thursday 8 November through 20th Century Fox.