Marty (Colin Farrell) is an Irish screenwriter living in Los Angeles. He has an alcohol problem, his Australian girlfriend Kaya (Abbie Cornish) has had enough of him and he is struggling to finish the script of his new screenplay, "Seven Psychopaths."
He pictures something thoughtful and non-violent but the problem is he has no ideas. His best mate, Billy (Sam Rockwell), on the other hand, does and is not-so-subtly keen to share. Though, Billy's assisstance comes with risks. With old con artist Hans (Christopher Walken), he runs a scam kidnapping dogs to claim the reward money but when they kidnap a shih tzu called Bonny belonging to violent mafia boss Charlie Costello (Woody Harrelson), they are placed on a hitlist. Costello is not shy about following through and Marty would do well just to stay alive.
This black comedy, written and directed by Martin McDonagh, is a haphazard film which shows similarities with Charlie Kaufman's Adaptation for script, Quentin Tarantino for style and Edgar Wright's Hot Fuzz for just general fun-loving insanity, but without quite reaching the heights. Brutal hostility is interspersed with absurdist comedy, throwing in some philosophy of Gandhi and even a Buddhist monk.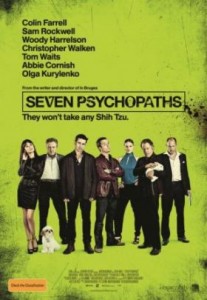 As a kind of metafilm, it is acutely aware of the stereotypes the Hollywood studios are pandering, the struggle for screenwriters to try and pull away but also the inevitable gravitation back into cliché. Here, Marty channels McDonagh (who cast Farrell in his 2008 film In Bruges aswell) trying to find his feet in the Hollywood environment.
Marty, for his part, is the only constant in a cast of unpredictable crackpots, each with their own unique story to tell. As we meet the psychopaths, Marty, like us, takes note and watches them act out a non-existent script. In this sense, Farrell doesn't have much to do but keep a bottle in one hand, pen in the other and let Rockwell take the reins.
Indeed, the cat and mouse antics between Rockwell's idiotic Billy and Charlie make up the bulk of the laughs with Rockwell adding another stellar performance to his strong resume. Charlie Costello's love for his wimpy looking dog is quite astonishing given how quickly he is willing to despatch everyone else, a personality complex Harrelson and his bulging eyes pull off with aplomb. However, it is the veteran who outshines them all.
Christopher Walken's talents have been squandered over the last decade but as Hans he gives this film the dose of heart and gravitas it sorely needs. Religious, restrained and a devoted husband, he plays his grounded role with ease. Tom Waits also makes a nice little cameo as a reformed serial killer nursing a white rabbit, while the talented pair of Cornish and Olga Kurylenko make insignificant appearances, the latter as Costello's girlfriend.
Swinging blindly from sentimental to reckless to ruthless, this madcap journey is a little inconsistent and doesn't quite tie together as well as it could. However, the characters are fantastically drawn and McDonagh has given us a thoughtful but also thoroughly entertaining take on his own profession.
Seven Psychopaths is in Australian cinemas from Thursday 8 November through Hopscotch Films