"Hey, Big Evil. Why do they call you Big Evil?" "Because my evil's so big."
There is lots of this evil going around South Central, with LAPD officers Bryan Taylor (Jake Gyllenhaal) and Mike Zavala (Michael Pena) doing their best to enforce the law. They are "the thin blue line, protecting the prey from the predators, the good from the bad", and while they might bend the rules slightly, it's always with their best intentions at heart.
Seemingly miscellaneous events lead Taylor and Zavala to stumble across a Mexican cartel operating in their neighbourhood. Not shying away from a challenge (or danger), the duo pursue the criminals, becoming so threatening that a hit is eventually ordered against them.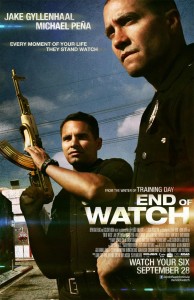 Directed by David Ayer (the writer behind Training Day and The Fast and the Furious), End of Watch goes far beyond your typical police film. Incredibly engaging from start to finish, there are countless tense moments that keep the audience on edge. However the action isn't the film's strongest point, with Ayer creating personable and funny dialogue that really steals the show. There's also a bit of a Cloverfield/Blair Witch Project vibe, with Taylor filming lots of his everyday life for his on-the-side film class. This amateur camerawork is a little distracting at first, however stabilises as the film continues.
Painting a frightening portrait of street gang culture in LA, with constant action, End of Watch is largely a character piece, focusing on the bond between two close friends. Gyllenhaal and Pena work very well together, with their fame not detracting from the believability in their roles. Not only are they entirely convincing as best friends, you never doubt them as police officers. And yes, they constantly find themselves in a very high percentage of life threatening situations, but this doesn't cheapen the film's overall plausibility.
Anna Kendrick and Natalie Martinez are also memorable as Taylor and Zavala's significant others, while America Ferrera and David Harbour are a strong support as fellow officers.
This is just really good. Combining drama, violence and comedy, End of Watch hits you in the face and stays in your mind for days to come.
End of Watch is in Australian cinemas from Thurs 1 November through Roadshow Films.