Without question a film about a group of women coming together before a wedding will only cause people to immediately strike similarities with the 2011 box office smash, Bridesmaids. Whether Bachelorette will reach the same acclaim, following or financial success as Bridesmaids is doubtful, and this review will not contradict this.
Becky (Rebel Wilson) is getting married and she asks three friends from high school, who really called her "pig face" because of her size, to be her bridesmaids. Regan (Kirsten Dunst) is a control freak, Gena (Lizzy Caplan) is a neurotic no hoper and Katie is a drugged up airhead (Isla Fisher).
The three bridesmaids harbour many regrets and past inhibitions from their high school days. Regan has always strived for the perfect life and is furious she is doing going down the aisle before Becky. Gena is a mess; going from man to man, no job of substance. Her issues are compounded after learning her high school boyfriend (Adam Scott) will be at the wedding. Katie is an immature adult, taking nothing seriously and dabbling in drugs at any opportunity.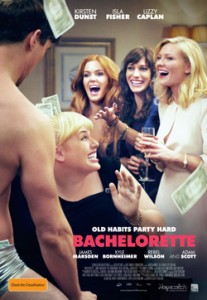 The tone of the film was a complete surprise after the trailers marketed this to be a straight out comedy. Some of the elements strike an emotional cord, especially with the lovelorn Gena, played expertly by Caplan. Yet it is Dunst who steals the show, bringing substance to the film with her mature approach to a complex. Australian Wilson is probably playing her least annoying role in a while, finally mastering a decent American accent.
Unfortunately the film almost comes undone by Fisher, who seems completely miscast as a drugged up and wasted character, who is somehow meant to be hilarious and endearing. It's an embarrassing character and yet at some point she manages to land the affections of Joe (Kyle Bornheimer). It seemed completely unrealistic and quite convenient to have the three leading ladies coupled up with a handsome man by the end of the film.
The film is written and directed by Leslye Headland, which is based on her own play. Headland lets Dunst and Chaplan embrace complex characters and allows them to be adults with believable flaws. The script is filled with great one liners and sufficiently awkward moments for the characters. Some may be put off with the crass dialogue and direct approach some situations, however this an adult film dealing with adult situations.
Bachelorette is in Australian cinemas from 1 November through Hopscotch Films.