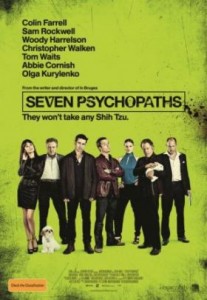 Courtesy of Hopscotch Films, Film Blerg is giving away 3 double passes to see Colin Farrell in SEVEN PSYCHOPATHS out in cinemas from Thurs 8 November. 
Film Synopsis: From the team who created In Bruges, comes Seven Psychopaths, an inventive, violent, hilarious film that retains the deft writing and comically twisted creativity about moralistic criminals that made In Bruges a cult classic.
Novice screenwriter Marty (Farrell) has come down with a bad case of writer's block and is struggling to find inspiration for his new script "Seven Psychopaths". All he needs is a little focus and some deranged oddballs for inspiration. Billy (Rockwell) is Marty's best friend, an unemployed actor and part-time dog thief, who wants to help Marty, by any means necessary. Hans (Walken) is Billy's partner in crime. Charlie (Harrelson) is the psychopathic gangster whose beloved dog, Billy and Hans have just stolen. Charlie is unpredictable, extremely violent and wouldn't think twice about killing anyone and anything associated with the theft. Marty is going to get all the focus and inspiration he needs, just as long as he lives to tell the tale.
How to win:
Visit our Facebook page and hit the "SHARE" button on the SEVEN PSYCHOPATHS status.
Write "Win tickets to see Colin Farrell in SEVEN PSYCHOPATHS " in the write something section.
Send your name and address to giveaways@filmblerg.com with SEVEN PSYCHOPATHS in the subject.
Competition opens 9am AEST Monday 29th October, 2012 and closes 5pm AEST Friday 2nd November, 2012.
Terms and conditions
Passes are eligible only to Australian residents.
Film Blerg and Hopscotch Films cannot be held accountable for any delay or loss of prizes.
You must follow Film Blerg on Facebook or Twitter to be eligible.
Any information sent remains confidential.