And so it ends.  Cleaver (Richard Roxburgh) singing in his cell waiting to cop a beating from his fellow corrupt inmates.  Poor sad old Cleave.  After trying to get his manslaughter charge hiked up to a murder charge, making it more likely to get off, he forgot about the old 'conspiracy to commit murder' charge that, in the end, was the nail in the Cleaver coffin.
Nicole (Kate Box) leaves her beloved Bevan to inform Barney (Russell Dykstra) she's up the duff with his child.  There's no rewards for bad behavior in the final of our favourite ABC drama as Scarlett (Danielle Cormack) is left stunned when Barney admits the outcome of his cheating ways as their marriage takes another hit.
Dirty corrupt creep Cal McGregor (Damien Garvey) finally gets what's coming to him when Cleave puts him on the stand and he perjures himself and ends up in prison with Cleave.  It's a sad, miserable and hilarious end for Cleaver who is the unluckiest barrister this side of the sun.  It seems that when the shit came down poor Cleave, after winning cases involving cannibalism and terrorism, couldn't defend himself. Curly haired cutie Fuzz (Keegan Joyce) is scared by his fathers 'sins' and now baptized into the church he hopes Cleave finds God so he stops being so 'sad and lonely'. Meanwhile, Wendy (Caroline Brazier) learns why Rodger's (Martin Sacks) ex-wife was sleeping with Fuzz when she learns that he can only perform in the bedroom with a blow up doll called Ruth watching him.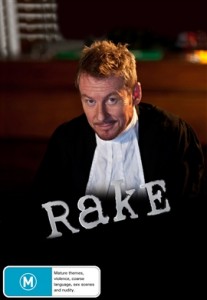 Every character in Rake is inherently flawed with the worst kind of traits.  The seven deadly sins were made just to rest with these people. Yet, Lane Hole seemed to get off scot free, until a bicycle 'accident' leaves him a little worse for wear in the last few moments of the seasons end, we were all glad to see him get his comeuppance in a violent and nasty way.
Ironically, Cleaver was innocent of the crime he was charged with, his first and last innocent client.   Although having done drugs, slept with countless women, embarrassed himself, gambled carelessly, drank himself into oblivion, defended the lowest form of humanity and is a total arsehole by nature we somehow feel wronged that he is behind bars for something that was merely a misunderstanding between two hired goons.  Even though that poor old guy got murdered it still doesn't seem right. Writers Peter Duncan and Andrew Knight certainly know how to make us love the seemingly unlovable.
So, with everybody's lives completely shattered and no quick way to repair the damage done we must know:  Is there a season 3 of Rake?
Let's make like Fuzz and pray like hell.
Rake aired on Thursdays at 8.30pm on ABC1. Read more reviews in this series.