Tehran 1979; the Iranian revolution is well underway with violent demonstrations storming the streets. Angry protestors storm the US embassy and when six American diplomats escape, the CIA has to formulate a plan to get them out of the country alive.
Enter extractor Tony Mendez (Ben Affleck) who manages to come up with the so-far-fetched-it's-almost-believable plan of posing as a crew in town to shoot a B-grade science fiction film named Argo. After getting approval from CIA chief Jack O'Donnell (Bryan Cranston) and having the support of big time movie producer Lester Siegel (an incredibly funny Alan Arkin) and Academy Award winning make up artist John Chambers (John Goodman), his plan gains credibility and is in motion. The six diplomats (strongly portrayed by actors including Clea Duvall, Scoot McNairy and Tate Donovan) are hiding at the home of Canadian ambassador Ken Taylor (Victor Garber), the idea being they would be issued with Canadian passports in order to fool the Iranian guards at Tehran's airport.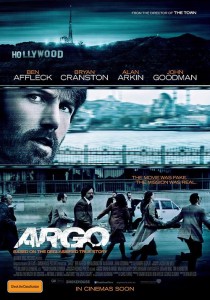 Argo is captivating from its onset, opening with a narrated animated sequence giving the audience a brief overview of Iran's tumultuous history. It all might sound like fun and games, but this is a very serious situation all the more realised when Mendez arrives in Tehran with fake passports and identities. Reality sinks in with all involved realising it could end very badly. The "best bad idea" the CIA have, the drama is laced with dread, the audience just waiting for it to all fall
apart. First time feature film screenwriter Chris Terrio superbly balances the grim subject matter with some very funny dialogue, but as the film reaches its climax everyone in the audience will be holding their breath.
Many films claim to be 'inspired by real events', but Argo is real. As mentioned in the postscript text, the top-secret operation wasn't made public knowledge until Bill Clinton turned the information into public record in 1997.
Argo is brilliantly executed with a wonderful cast and excellent direction. After 2010's Academy Award nominated The Town, Affleck follows with another airtight contribution, increasingly providing his credibility behind the camera, as
well as on screen. Bring on the 2013 Oscars.
Argo is in Australian cinemas from Thurs 25 October through Warner Bros.