Hail is the first feature effort from Amiel Courtin-Wilson who has gained international recognition for his documentaries Chasing Buddha, Bastardy and his short film Cicada, which introduced us to the dark and enigmatic force that is Daniel P. Jones. Working again with stories from Danny's true experience, Courtin-Wilson has brought a fully realised narrative to the screen. Danny leaves prison and returns to his long-time partner Leanne (Leanne Letch), announcing to she and their friends his intention to go straight. After much apprehension from employers, he gets a job at a local car detailer, gets a new set of teeth and enjoys, with some difficulty ("that, out there, drives me mad") life on the outside. It isn't long before his inner chaos yields him to the coax of drink, drugs and criminality and when a tragic event occurs, Danny's nightmarish existence is turned inside out.
Danny and Leanne's love is one of tenderness and toxicity (Leanne, in one scene, wakes him by blowing smoke in his face and playfully suffocating him) and their affection for each other can lead to fits of jealousy, fear and inadequacy and succumb to Danny's rage as much as Leanne's impishness. The camera allows these scenes to actuate entirely from within each individual's inner conflict with striking and mesmeric realism and how they interact beyond each other, with friends and family, stems from the strength and assuredness of this love.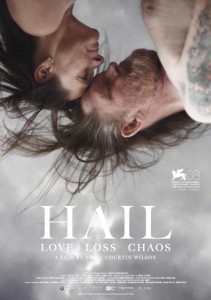 Courtin-Wilson makes no estimation of his characters virtues (or, vicariously, his actors), and begs none from the film's audience. The violence, which is felt as much as it is shown, is still mediated with Danny's dream-state, his enduring effort to seek peace and balance. He manages his storm by retreating to a consciousness of peace, an open field with tall reeds, or the shore of a beach with calm waters. These rhapsodic interludes, which become increasingly formless and frightening, communicate Danny's crisis in a manner that has such artful magnanimity, and which spectacularly match the humdrum discourse between the couple and their friends.
Hail, as its title suggests, is imbued with a profound temperamental climate of love, rage and despair, embodied in its two absorbing leads and in its own experimental, vérité affect – which has a narrative that exists independently of its characters. At a point of awesome anguish, Danny plunges heavy footsteps into icy snow, wet with tears and rain, and sets a fire that rots and melts his car inside out. Courtin-Wilson weaves between Danny's harrowed mind and the destructive outer energies of nature with care and boldness. The tempest is both internalised and outwardly tangible and Danny treads both these narrative strands, existing within the eye of this storm, whilst his eyes also serve as a looking glass into inexpressible tumult. Hail is ultimately a consuming celebration of cinema and an experience you mustn't deny yourself.
Hail will have a limited season at Cinema Nova and Dendy Newtown from October 25, through Madman Films.