Frankenweenie sees the feature film development of an idea Tim Burton first imagined almost 30 years ago. No stranger to paying tribute to his childhood influences of classic Hollywood horror films, Frankenweenie sees all of the trademark Burton elements present: a Gothic aesthetic, a lonely protagonist, a zany Danny Elfman score, among many more.
Victor Frankenstein and his best friend Sparky (his dog) do everything together. Life is not empty for Victor if Sparky is around. That is, until the inevitable happens and Sparky dies. Ever a keen interest in science, and propelled by the deranged teachings of a Russian science teacher, Victor brings Sparky back to life using science and the natural elements.  And cue the mayhem.
Set somewhere in the early 1950s (we assume from family television, and Bambi placed on the local cinema marquee – presumably as a re-release) the black and white cinematography adds to the feeling of time passed and nostalgia. Burton fans will also recognise similarities to Edward Scissorhands in the newly established housing estate, creating that picture of everyday, suburban America.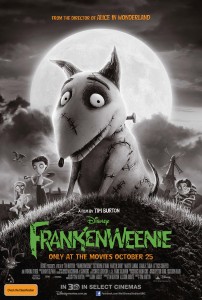 Charlie Tahan provides the voice of Victor with appropriate downtrodden Burtonesque tones, while Catherine O'Hara and Martin Short voice mum and dad (as well as other various characters) with warmth and affection. Winona Ryder also returns to the Burton menagerie, last seen in Edward Scissorhands, with a few lines as the brooding girl next door Elsa Van Helsing. However, Martin Landau gives the greatest voice performance as the deranged Russian science teacher Mr. Rzykruski.
Supporting characters come in the form of a familiar brood of archetypal Horror-type characters best evidenced with Edgar 'E' Gore. With a terrifically creepy voice performance from the young Atticus Shaffer, Edgar audibly physically resembles hunchbacked Igor popularised throughout the horror genre. Other supporting characters are evidenced in extremes – an angry corpulent Mayor, an Oriental ambitious other, the fat kid, and a broad-shouldered Lurch lookalike.
Thankfully, references to Bride of Frankenstein, Frankenstein and The Mummy are included, providing specially aimed jokes for the adults. 3D technology does add a layer of effect to the film, but it is not dependent on the technology, nor does it utilise it to its full extent. John August's script is very strong, building on Burton's story. Without revealing any spoilers, the ending does take a surprising and slightly substandard turn, unexpected from the customary, moral lessons that Disney (and Burton at times) usually concludes with.
Utterly entertaining, funny and of course peculiar, Frankenweenie is a film for both adults and children to enjoy together. Burton fans will also not be let down with the adaption of the short made 28 years ago.
Frankenweenie is in Australian cinemas from Thurs 25 October through Disney.